Princess Euphemia (Massacre Ver.)
Code Geass: Lelouch of the Rebellion
Last Updated: 08-01-2009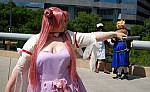 Made in the span of about 15 hours, with most of that being in a hotel room at Otakon itself. It's not in the best shape because I ran out of time. However, I'm still proud because it was the first time I had sewn a dress and styled a wig like this. I had to really alter the pattern because of my size and I also had never sewn a costume or made a wig at a con, in such a short amount of time.

The wig will be altered (the odangos are too big for Euphemia) and the dress will probably be re-done as well, but for now the pics of the first version will go up.
Comments: 1
Please log in or register to view comments.