Hirasawa Yui ~ School
K-On!
Last Updated: 09-03-2011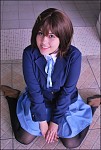 Original: http://i200.photobucket.com/albums/aa156/fridux/cosplays/hirasawa-yui-k-on.gif

♥Yui's so cute and funny ... I love this character! Always wanted to be in a band, and I think a very cool all girl band! LOL! I think ♥Yui is very much like me, I'm kind of silly, hyperactive, I love tasty foods (LOVE LOVE LOVE), I learn many things very quickly, I love to sleep, well, is very difficult to wake up!! LOL! ...

I love this costume, I thought I was very similar to Yui ... The hair accessory that I bought was so ♥perfect, I had not thought that was really good before seeing the pictures and compare with the character! =3

I'm very happy with the results, and I hope you like it too!♥
Comments: 6
Please log in or register to view comments.
Brazil
Stats
| | |
| --- | --- |
| Character | Hirasawa Yui ~ School |
| Series | K-On! |
| Costume Views | 1072 |
| Favorites | 1 |
| Comments | 6 |
| Upload Date | 05-17-2010 |
Copyright 2002-2017 Cosplay.com, LLC. All Rights Reserved.
All comments and posts in our forums are the opinion of the respective poster.