Inventory Blowout! Professional quality cosplay wigs 30-40% off with shipping included - Click Here for details
Bulbasaur
Pokémon
Last Updated: 09-11-2010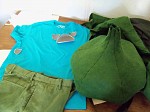 Wore on the 2nd day of SacAnime 2010 summer. Saw pictures... realized it needs a lot more work. Keeping Bulb pack but re-thinking shirt and vines.

-Purchased a teal shirt as opposed to green. I saw how plain my SacAnime Bulbasaur was, too green. I'm going to be adding green spots to the teal shirt. Just need to design a good pattern for them.

-Purchased webbed green nylon belts (online). The strips for cloth on pack was stretching at SacAnime.

I'm thinking of adding some kind of wrist bracer to hold the straps and allow them to pull out as well so I can sew in a padded weight to the end so I can possible swing them around (Vinewhip)???
Comments: 0
Please log in or register to view comments.
United States
Stats
| | |
| --- | --- |
| Character | Bulbasaur |
| Series | Pokémon |
| Costume Views | 540 |
| Favorites | 0 |
| Comments | 0 |
| Upload Date | 09-06-2010 |
| Debuted | 08/04/2010 |
Copyright 2002-2017 Cosplay.com, LLC. All Rights Reserved.
All comments and posts in our forums are the opinion of the respective poster.