Azula
Season 3 Armor
Avatar: The Last Airbender
Last Updated: 10-21-2010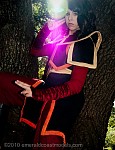 I love Azula so much! I just always love the crazy characters. While I think this cosplay is ok, I really feel the need to remake it to give it more depth.
The red pants and shirt are made from a cotton jersey. It's actually the sheet from my boyfriend's bed that he never used so I took it! The armor is fun foam covered with blackboard vinyl. The pattern for the armor was mostly drafted by my boyfriend and he also cut out a lot of the foam. I cut out the vinyl the stitched it onto the foam. My sewing machine was a real champ through all of this (thanks largely to tissue paper helping the foam go through)! Then I top stitched the bias tape I made. Finally, grommets were added so everything could be roped together.
Comments: 0
Please log in or register to view comments.
United States
Stats
| | |
| --- | --- |
| Character | Azula |
| Series | |
| Costume Views | 389 |
| Favorites | 0 |
| Comments | 0 |
| Upload Date | 10-21-2010 |
| Debuted | DragonCon2010 |
Copyright 2002-2017 Cosplay.com, LLC. All Rights Reserved.
All comments and posts in our forums are the opinion of the respective poster.