Bellatrix Lestrange
Harry Potter
Last Updated: 10-26-2010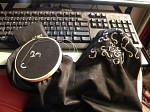 Bellatrix Lestrange as she appears in the Order of the Phoenix!
When I sketched out the design and made notes, it looked to me like her top and skirt were made from different fabrics, but after looking at everyone else's costumes, I'm not so sure!

Regardless, I've been taking liberties with the swirlies as I hand embroider them, and making them more me rather then 100% accurate. I've made her pendant and wand out of clay and am still working on them. Here is my progress so far! Still a lot to do!
Comments: 0
Please log in or register to view comments.