The March Hare
Miyuki-chan in Wonderland
Last Updated: 09-09-2011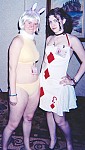 I loved this anime and manga. I was relatively new to sewing, so I decided to keep it simple with this costume. It's made of yellow fleece and even has a bunny tail!

The ears were purchased at the last minute, which is why they're purple. This was my first Con, and this was when SakuraCon was at the SeaTac Hilton and Mariot. I learned very quickly that it's still cold in the spring in Seattle.
Comments: 0
Please log in or register to view comments.