Kuranosuke Koibuchi
Kuragehime (Princess Jellyfish)
Last Updated: 03-14-2012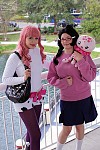 I love Princess Jellyfish! It's such a cute series and I can relate to it quite a bit because I am an awkward shut in. Lol. I love Kurako's outfits though so I just had to cosplay him. :D

This costume is mostly modified thrift and clothing store items. I made the cow pants from scratch out of fur and painted the spots. I super-glued rhinestones to a gold buckle and made the bow belt from wide ribbon. The cowboy boots were originally grey so I painted them black and white. I already had the purse and it was nice to be able to carry a bag around while in costume.
Comments: 0
Please log in or register to view comments.
United States
Stats
| | |
| --- | --- |
| Character | Kuranosuke Koibuchi |
| Series | |
| Costume Views | 640 |
| Favorites | 1 |
| Comments | 0 |
| Upload Date | 03-14-2012 |
| Debuted | Megacon 2012 |
Copyright 2002-2017 Cosplay.com, LLC. All Rights Reserved.
All comments and posts in our forums are the opinion of the respective poster.