Inventory Blowout! Professional quality cosplay wigs 30-40% off with shipping included - Click Here for details
Princess Jupiter
Manga
Sailor Moon
Last Updated: 02-27-2013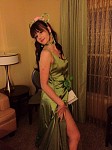 I cannot take credit for making this dress. That honor goes to the amazing Sparkle Pipsi.

Initially, I was going to try to sew my own dress for this cosplay, but I knew if I was going to wear it to the ball at AWA 2012, I was going to need a miracle.

When I stumbled across Sparkle Pipsi's ad and saw that the price was right, I knew I had to buy it. The only adjustments I made were to the shoulder straps (the bust area was a bit large on me, sadly), and I added a wrist strap to the bottom of the train so I wouldn't stumble over the dress when walking or dancing.

The shoes are a pair of generic white pumps that I painted to match the dress using acrylic paint.
Comments: 0
Please log in or register to view comments.
United States
Stats
| | |
| --- | --- |
| Character | Princess Jupiter |
| Series | |
| Costume Views | 556 |
| Favorites | 0 |
| Comments | 0 |
| Upload Date | 08-04-2012 |
| Debuted | AWA 2012 |
Copyright 2002-2017 Cosplay.com, LLC. All Rights Reserved.
All comments and posts in our forums are the opinion of the respective poster.