Takeshi Yamamoto
Katekyo Hitman Reborn!
Last Updated: 09-23-2012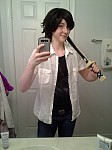 I decided to pay tribute to one of my favorite characters from KHR. Takeshi was the first character that I really wanted to cosplay, like with a burning desire to. This is also turning out to become one of my most comfortable cosplays ever!

Wig: The current is a Death by Smoking Butterfly from the Five Wits but are looking into purchasing a new wig.
The under shirt, the button down, the shoes, and the belt are purchased from H&M.
The jeans came from my own closet.
Still need to buy the vongola ring (will do that at AUSA) and a set of black wristbands.

Prop construction: Started out by cutting out a base of cardboard. I cut out all the decals from craft foam, and hot glued them to the base. I then paper mached the entire thing with a mixture of flour and water. After the paper mache dried, I painted the entire thing white. The blade and handle were spray painted silver and the stripe was painted on with black acrylic. The gold parts were painted with gold acrylic. The wrapping on the handle are black plastic tape.
This was my first handmade prop and I'm pretty proud of it!
Comments: 0
Please log in or register to view comments.
United States
Stats
| | |
| --- | --- |
| Character | Takeshi Yamamoto |
| Series | |
| Costume Views | 273 |
| Favorites | 0 |
| Comments | 0 |
| Upload Date | 08-27-2012 |
Copyright 2002-2018 Cosplay.com, LLC. All Rights Reserved.
All comments and posts in our forums are the opinion of the respective poster.