Buttercup (Kaoru Matsubara)
The Powerpuff Girls Z
Last Updated: 11-03-2006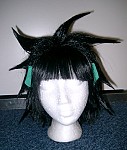 I made all three costumes for the group (Buttercup being summoner_eilidh) so all the details for this costume are the same as for my Bubbles one, the only difference being the wig. It's the Punky style from CosWorx, which made the spiking much simpler. I had to cut in a fringe, the short pieces at the front, then separate out the various spikes before hairspraying the hell out of them! It took a bit of time to perfect the curves and shapes of the spikes, but I'm pretty happy with them overall. Buttercup's hair changes direction throughout the anime, probably meant to depend upon which way she's facing, but I just had to pick one direction and go with it. The hairslides are craft foam glued on to the same green fabric used for the rest of the costume (I like things to match). and then sewn together to get the 3D shape. They're stitched into the wig.
Comments: 0
Please log in or register to view comments.
United Kingdom
Stats
| | |
| --- | --- |
| Character | Buttercup (Kaoru Matsubara) |
| Series | The Powerpuff Girls Z |
| Costume Views | 2769 |
| Favorites | 0 |
| Comments | 0 |
| Upload Date | 10-11-2006 |
| Debuted | London Expo October 2006 |
Copyright 2002-2018 Cosplay.com, LLC. All Rights Reserved.
All comments and posts in our forums are the opinion of the respective poster.