Nana Oosaki (Manga Vol. 2 Chap. 1)
Train to Tokyo Version
NANA
Last Updated: 07-04-2007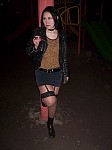 When I started reading NANA, I fell in love with it. Nana Oosaki reminds me a lot of myself in my late teens/early twenties. Punk Rock and all.
I'm gonna cosplay Nana Oosaki on "Nana Day" (07-07-07), so I've cut my hair, dye it black, and bought an armor ring (Vivienne Wetswood imitation). I want to take advantage of this and cosplay more versions of her.
I had all the main clothes on my wardrobe, so I did a quick photoshoot. It will be usefull to improve some details for the convention. Even when I already had almost everything, this is not a typical closet cosplay. I tried to be as accurate as I can get. She wears this outfit on the train to Tokyo (when she meets Hachi).
Comments: 0
Please log in or register to view comments.
Chile
Stats
| | |
| --- | --- |
| Character | Nana Oosaki (Manga Vol. 2 Chap. 1) |
| Series | NANA |
| Costume Views | 976 |
| Favorites | 0 |
| Comments | 0 |
| Upload Date | 07-04-2007 |
| Debuted | Private Photoshoot (July 01, 2007) |
Copyright 2002-2018 Cosplay.com, LLC. All Rights Reserved.
All comments and posts in our forums are the opinion of the respective poster.