Speaking of blouses, when I went blouse-hunting I found tons of great blouses at burlington coat factory, but there was a problem. All of the blouses were either too thin, or too small for my bust (I seriously almost popped a button) so I ended up getting this, (I had to lighten it so you can see the ruffles, and you might be able to see the small ribbon bow in front too)
I'm worried that it may not be high up enough, though it doesn't show any cleavage. The blouses were just too small, okay? TT_TT even the large ones, and I couldn't find any extra large of the blouses that were very acceptable as far as design goes.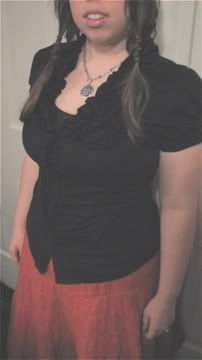 What do you think? Can I get away with it? If I can't, is there a way I can add a shirt to this or something to make it alright?
I had a question about the possibility of using this as a winter item. Its supposedly called a capelet, though I don't think that's the real name.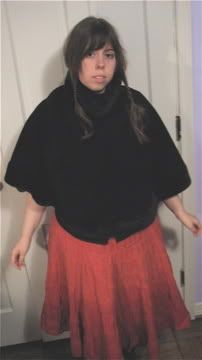 Boy do I look tired. I should sleep more often.