Hatsune Miku's Makeup
If your wig and costume are perfect, why not polish it off with the perfect makeup? This youthful, subdued application matches Miku's design perfectly. How about giving it a go?
There's a detailed description for each part
Every character calls for a different look and a different sort of makeup application. Even so, do you often find yourself with the same two or three looks? If so, you're not alone. That's why we've included detailed step-by-step instructions for a unique look that replicates Miku's original character art almost perfectly!
Natural makeup for a wide-eyed appearance, eyebrows to match your wig, natural red cheeks and lipgloss make for 4-point perfection in this fresh, young idol application.
Fundimentals!
If you take nothing else away, let it be this!!
Basic Base Makeup
Before applying makeup to each individual area, you need to prepare your face. Base makeup will not only give you a more even complexion, but it can correct discoloration, moisturize and protect your skin from the sun. Whenever you'll be wearing a lot of makeup, it's important to apply a base as well.
Sunscreen/Protective Base
Outdoor events really require something to block UV rays. Even in the winter, exposure to the sun over long periods of time can damage your skin. It's best to get in the habit of applying UV protection every time you wear makeup.
Liquid Foundation
For long wear, liquid foundation is ideal. It offers more coverage than powder foundations and doesn't dry your skin as easily. It's best to choose a type that will quickly and easily cover your whole face.
Concealer
When covering up pinpoint trouble spots like moles and dark circles, concealer is a must. Remember not to blend or rub on concealer, instead pat it into place with the pad of your index finger.
Face Powder
Liquid makeups, especially concealers, tend to fade and rub off with extended wear. To minimalize this, finish your base makeup with a light application of powder. There are quite a few powders designed to be gentle on the skin.
Highlighter
Highlighter helps brind definition to bone structure and brightness to your T and U zones. White shadows or finishing powders with a pearl finish work nicely, but apply sparingly with a large brush for the most natural look.
Eye Makeup
In order to capture the natural power of Miku's eyes, we need a restrained, colorless look. Be careful on the eyeline to avoid blurring or smudging.
Step 1 ~ Eyeshadow Base
Use an ivory pearl-finish shadow as a base and apply it to the entire hollow of the eye. Use a large brush for the most natural look.
Step 2 ~ Pencil Liner
In order to create a gentle impression, extend the eyeline only slightly upward at the outer corner. Don't circle the whole eye: instead, line the top lid completely and the outer third of the lower lid.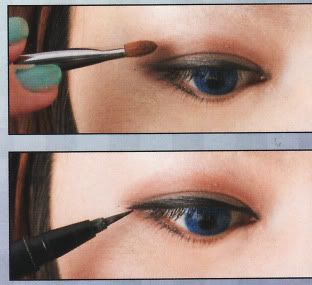 Step 3 ~ Brown Shadow
Beginning at the eyeline, shadow to the center of the eyehole and the outer corner of the eye as-shown. Use gradation shadows for a cleaner look.
Step 4 ~ Liquid Liner (top)
To sharpen and define the eyeline, line the lash-line carefully with liquid liner.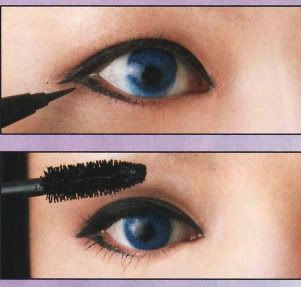 Step 5 ~ Liquid Liner (bottom)
Line the bottom lash line (1/2) as well. Join the line with the top in a cute corner.
Step 6 ~ Lengthening Mascara (top)
Apply lengthening-type mascara heavily to the upper lashes. Using a slightly finer application brush will give you less in the way of clumping. Repeat until the lashes are completely coated.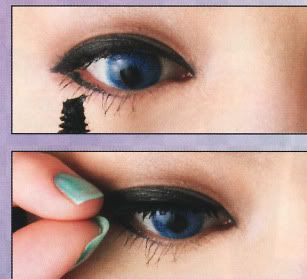 Step 7 ~ Lengthening Mascara (bottom)
Use the very tip of the brush to apply mascara to the lower lashes as well. Be careful and try to proceed with the image of handling each lash one by one. Coat the lashes all the way to your tear duct.
Step 8 ~ False Lashes
The last touch is applying some simple, straight false lashes. You want them to look as natural as possible, so we'll stick with just one lash on the top this time.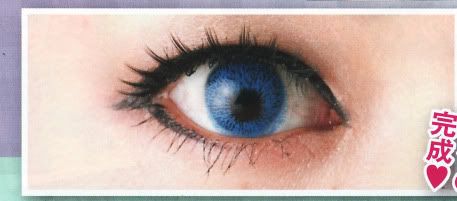 Your dolly-eye is complete<3
(continued in the next post)