Cosplay Love
We all angst over it, but seldom discuss it openly: love. But we recently asked the members of our Super Layers Club to level with us about matters of the heart and collected quite a few cute episodes to make your heart skip a beat.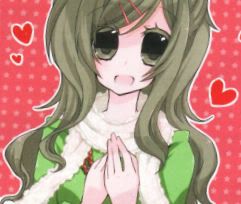 Question 1: Have you ever fallen in love with an otaku boy (or girl)?
67% - Yes
33% - No
67% said they have. Among those who hadn't, quite a few lamented that "if our interests are too similar, they seem to see right through me."
Question 2: When you're dating someone who isn't otaku, do you "come out" to them about cosplay?
52% - Yes
24% - No
24% - Depends on the person
Nearly half of respondants expressed a desire to come out to their partners, though many were timid or unsure of when and how to breech the subject.
Question 3: Can you share some stories about being closeted to your significant other?
-When he says he wants to come over, sometimes I say "You can't! It's dirty!" But that really just means I've got wigs and props and costumes all over the place.
-Once I intentionally put a suspicious seiyuu song on one of their driving CDs to test their reaction to that sort of thing.
-I'd been hiding it from my boyfriend, but one day he discovered my cosplay costumes. I thought for sure I was done for, but he ended up confessing to
me
!! "Actually, I really love Gundam!!" Our mutual coming out soon degenerated into Gundam-talk.
-I'm always having trouble coming up with excuses for why I'm busy every single Saturday and Sunday.
-Once I was dating a guy who hates otaku and he asked to see my digital camera while it still had some event photos on it. I wouldn't show him and it turned into a huge fight. I made up with him by quickly erasing the geeky pictures and handing it to him quickly, but I lost a lot of really good pictures in the process.
-I'm always booked solid on Saturdays and Sundays, so he started to suspect me of cheating. Though I guess I sort of am... with cosplay (laughs)
Question 4: Have you ever dated an otaku boy (or girl)?
55% - Yes
45% - No
Slightly more people had than hadn't. Some even answered that they're in a relationship with one right now!
Question 5: To those who answered "yes" to Q4 ~ What's nice about dating an otaku?
-It's nice to talk about our mutual interests.
-We can talk about anime! And they don't get upset if I go off on fujyoshi tangents! (laughs)
-We can go to events together and hang out at cheap places!
-Dates = events, so we don't spend much money.
-I can use words like "moe!" without worrying.
-It's nice not to have secrets from each other. It's an easy sort of relationship.
People seem to agree that the best part of being an otaku couple is how easy it is to be open about your hobbies.
Question 6: To those who answered "yes" to Q4 ~ What's bad about dating an otaku?
-They're hard to distract from their interests.
-It won't work if they think of themselves as 2nd-rate people! They ought to be more confident!
-They try to get me to dress up in costumes from porno games.
-They only talk about what they like most. It's endless! I've spent whole days just listening to them go on and on and on...
-I'm embarassed when they show up at events I'm cosplaying at and want to take pictures!!
-How hard it is to fit dates into the schedule! It's almost always full of events.
-Having a cosplaying boyfriend is the worst! He's always going to be surrounded by other girls.
-All the presents are anime goods and games.
Among the most common complaints: low self-esteem, jealosy and embarassment. Remember! It's not a good idea to compare yourself or your relationships to others!!
Question 7: If you answered "yes" to Q4 ~ Can you share some "otaku couple" episodes?
-We always throw out anime-centric words and lines into conversations, even if they have nothing to do with anime.
-We use game centers and event calls as date spots.
-We went on a date to Summer Comiket (laughs).
-We took cosplay purikura together. That was our very first purikura together, too, since it was our first date!
-We always run into each other when shopping on our own.
-On dates in Akihabara, we always designate one hour "individual shopping time" to split up and look at doujinshi and erotic games.
-My Christmas and birthday presents were
really
geeky.
-We play anime BGM in the car.
-We go on dates on online games too. I think that sort of thing strikes most otaku couples as perfectly normal.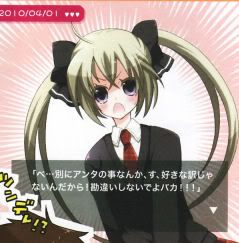 Question 8: How would you confess to another otaku?
-I want to try confessing like they do in bishoujo games.
-"I love you even more than (character name)!"
-As a joke, I'd say "You're the only one who sees the real fujyoshi me!!", then a normal "...I like you" (laughs)
-A kamen-rider esque speech.
-I'd try to get him to cosplay one half of a couple we both like, then confess in-character!
-"Will you be my `love interest`?"
-"I don't care that your room is full of bishoujo figures! I'll even go to radio show tapings with you!"
-"I don't mind your figures and anime girl merchandise! But please put me third in your heart!"
-"tch... I don't like you or anything... I'd never fall for
you
!! Don't go misunderstanding!" Tsundere-style ftw!!
Quite a few people favored a "normal" confession, but as you can see, a few had some especially fun responses!
Question 9: How would you want to be confessed to?
-Just like in a Neo-Romance game!!
-"I'll never betray you!"
-I want him to mix in lines from my favorite anime.
-Manga-style confessions are too embarassing -- normal is just fine (laughs)
-Dressed as a Prince of Tennis guy!
-I like chasing better than being chased. Like hell
I'm
the one getting confessed to!!
-I'd flip out if he did it dressed up as my favorite character. He could be the lamest guy in the universe and I think I'd still end up accepting in spite of myself (laugh)!
-I want him to ask in a joking way at an event.
This one also had a lot of different opinions, but nearly everyone wanted a manga-style confession of some sort.
Question 10: What's your dream otaku date plan?
-Cosplaying or going to a voice-actor event.
-Playing games together at home all day.
-Going to a popular date spot like Odaiba then stopping to buy anime goods and games on the way home.
-A normal date on Saturday and an event on Sunday.
-Cosplaying couple characters.
-Going to buy wigs and costumes together, then dressing up at one of our houses. If it goes well, we can wear them to an event together! Couple characters, of course (laughs).
-Games in Akihabara, shopping for doujinshi, shopping for costumes and ending up back at the game center!
-Sexy cosplay at home (laughs).
-Watching our favorite show together.
-As long as we can be together, anything's okay!
-Singing anime songs at kareoke!
-A round-trip tour or Akihabara and Ikebukuro.
Well it is
otaku
love! I suppose no one should be surprised that so many people wanted to stay at home and enjoy time together there.
*April 2010