Reference Sheets: (VOCALOID) Project DIVA 2nd
Lots of costumes to make you squee
Hatsune Miku -Project DIVA 2nd-
Playstation Portable
Rhythm Action Game
SEGA
Released 7/29/2010
6,040 yen (tax in) retail
http://miku.sega.jp/pjd2/
The virtual idol Hatsune Miku, made popular by the internet, stars in her second rythm action game. Please enjoy the lovely singing and dancing of Miku and her friends while dressing them in your favorite cute costumes.
Hatsune Miku
Act 2 of this popular game is packed full of Miku-power
The PSP game that fans of Miku and her friends just can't put down "Project DIVA" has undergone some changes in its second incarnation. Through a simple button pressing mechanism you can perform your dream stage with Miku and her friends.
Popular net songs and original songs are both included
Quite a few popular songs from NicoNico Douga have been included in the mix this time around. But some new songs, written just for the game, have also been included.
Song List
(original song) Kochi Muite Baby / ryo (supercell)
(original song) Colorful x Melody / chiimuMOER
(original song) Yello / kz
Romeo and Cinderella / doriko
Meltdown / iroha(sasaki) and kuma(alfred)
Just Be Friends / dixie flatline
Koiiro no Byoutou / OSTER Project
A New Way to Play
The beat is still kept by pushing buttons, but long presses and double-keys have been added in DIVA 2nd. The new mechanics make the game a bit more upbeat and challenging.
New Ways to Enjoy
The "Miku Room" fuction available in the first DIVA game has been expanded. Now you can create different rooms for all of the VOCALOIDs and watch special events triggered by certain circumstances.
Miku-zukin (Red-Riding Miku)
This cute costume is modelled after the fairytale "Little Red Riding Hood". Her white tights and apron provide contract between her deep red dress and hood.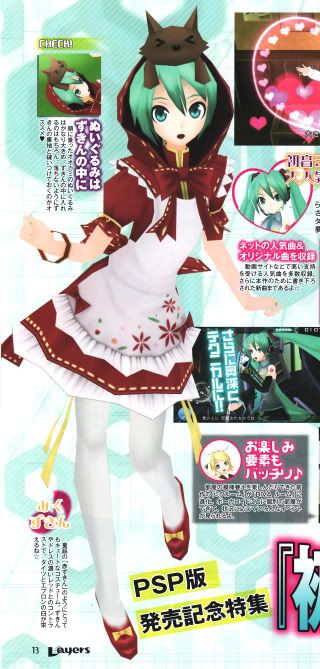 Point! ~ The Plushie in her Hood
The wolf plush riding on Miku's head is quite big. Since the wolf rides inside her hood, we recommend sewing it onto the hood so that it won't fall out.
Angel
This costume was designed to capture the innocence and adorableness of an angel. Using lace on the sleeves of her dress will add to the soft, ephemerial feel.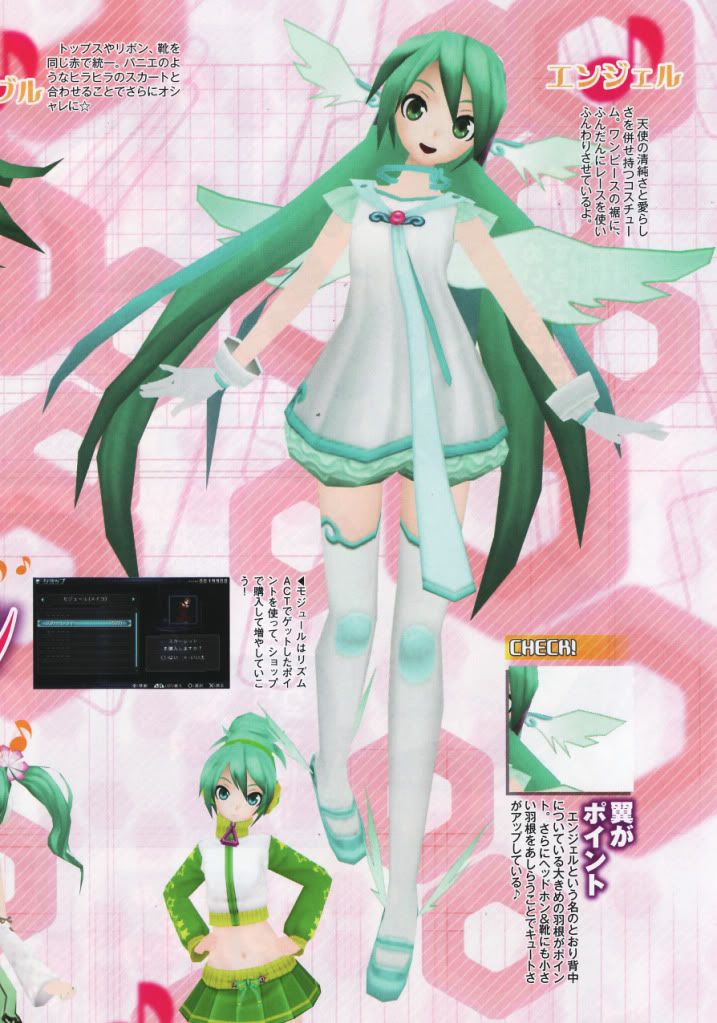 Check ~ Her Wingtips
Just like the name "angel" implies, Miku's huge wings are the main point of this costume. But take note: her headphones and shoes also have wings, making the costume even cuter!
Noble
Her top, ribbon and shoes are the same rich red. Paired with her panier-esque frilly skirt, they make for quite a stylish look.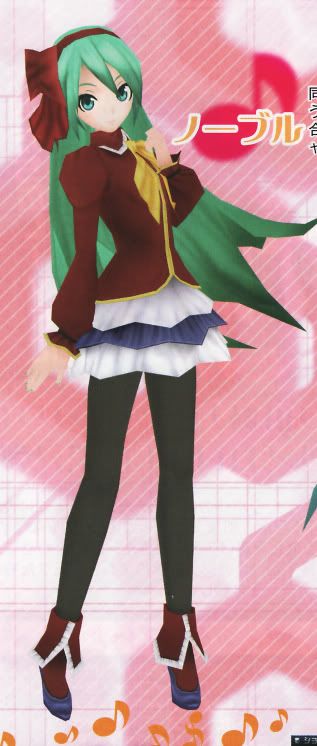 Jersey
The oversized zipper on the front of her jacket is quite cute. Tons of stars are printed like lines up her sleeves!!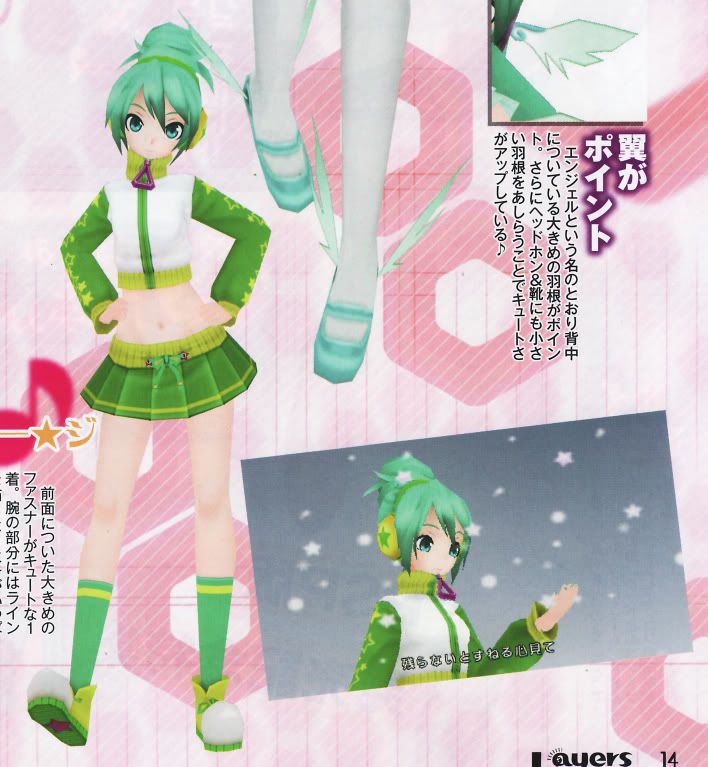 Colorful Drop
Her stylish, off-the-shoulder dress has a big ribbon as an accent. Her long stockings are held up by garter belts.

(continued in the next post)