So, I'm seriously in the concept stages of a gyarados costume. And not a gijinka, either.
I have this idea of building the head and top carapace section out of wire and paper mache, but considering how awkward it would be, and heavy, I think I'd need some sort of backpack style support structure for it. I can cannibalize a frame-stype hiking backpack for part of it, but the frame of the actual supports that would rise from it and support the head escape me.
How could I effectively build this thing so I wouldn't be crushed to death after five minutes in it? In addition, the con this would be for has a "no masks" policy, so the idea is to have my face visible through the mouth, with a fabric flap I can put up for pictures. I'm not sure if this idea, or somehow making it so the whole mess can be shifted onto my back like a backpack would be a better idea.
For the record, the body will be made of fabric, and I'm going to need to figure out how to 1. give it the rounded body shape and 2. keep it in that coiled position. A hula hoop run through the bottom and disguised has been suggested, as has a "spine" of pvc running from the backpack rig.
Any advice or suggestions anyone has would be welcomed with open arms. This is my first try at something of this magnitude, and I don't want to screw it up from the get-go. And seriously I have no idea what I am doing OR thinking with this.
Here, have my horrible 3-minute ms paint concept sketches: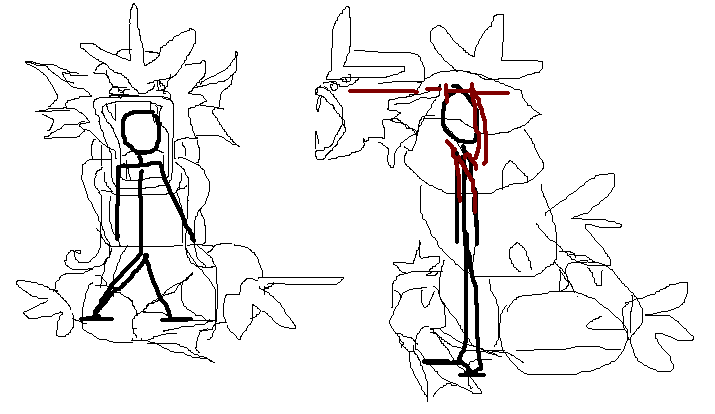 While the body is made out of fabric, because anything else would just put me in the realms of undue self-inflicted suffering, the head and the first portion that is is attached to are going to need to be stiff.
Reference
I am almost thinking a cardboard and wire frame, with paper mache over the top, and... maybe sprayable expanding insulation foam to carve out some the the details? I just am not sure.
Like I said, I am pretty much flailing into this blind and planless. I would love any insights or ideas anyone may have to toss my way.