Soo... I just started watching while I happened to be making a practice pleated skirt out of my spare simple cotton before using my nice plaid for the final go. But it turned out pretty darn good if i do say so myself, for a first try. And I noticed my boots near the door, and an old white button up shirt that was too big in the first place.
Would it be a big sticking point if I use more light blue to make the rest of the costume instead of the dark blue? It's pretty pale, (worse in my pic cause my lighting sucks and it's the middle of the night.) I even made a petticoat to go under to give that perfect ever fluffed look. I have not yet taken starch or pleat spray to it yet, but i have hope because when it comes fresh off the ironing board all the folds are nice and crisp. I've been trying it on over and over and over right before the pic.
Let me know what you think. If it would bother you too much to enjoy it once it's finished (tomorrow night or the next i'll be putting the blue stripes on the shirt)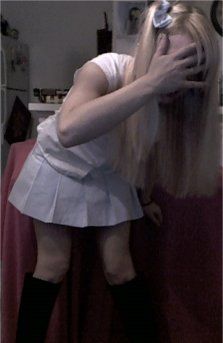 Vs.