Ok so one of the biggest issues I have as a cosplayer is trying to find that perfect place for pictures that match my costumes. Living where I do doesn't really help either. Sometimes I look around this half of my state and think "Holy crap where is the history? Why are there no lovely cathedrals, no gorgeous libraries with banisters and old wood work, why does my state suck so much?!". So if you're like me and live in this area please post where you have found a great place for photo's to be (if you can please include pictures, the name of the place, and an address so people will be able to find them!).
This is what I have found:
Sonnenburg Gardens, Canandaigua NY
-
http://www.sonnenberg.org/
-
This place features 11 different styles of gardens and is perfect for almost any costume. Seriously I have done a Vocaloid, Naruto, Faerie, and KH shoot in this park. Best part is that if you are a student admittance is just $5.
This is a picture of the japanese gardens tea house.
Stony Brook State Park, Dansville NY
-
http://nysparks.com/parks/118/details.aspx
This park features a forest type setting and 3 waterfalls of different heights and pool sizes. There are places to swim and camp too. This place is gorgeous and very versatile because of its water and forest setting. I've done a Alice in Wonderland and Kingdom Hearts shoot here.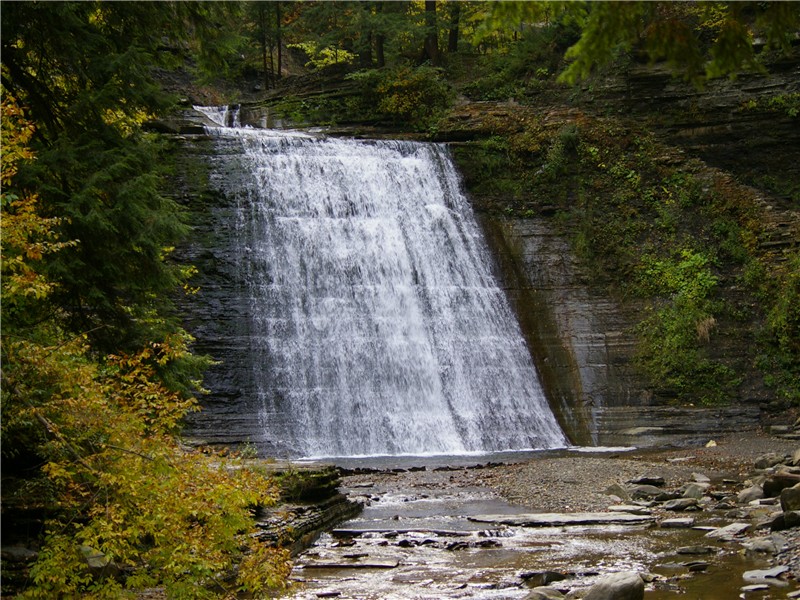 This is a picture of the second fall. There are also two others, 2 foot bridges (one made of stone), and 5 hiking trails. Also there is a pavilion with a huge fire place that looks like something out of beauty and the beast.
Down Town Syracuse, Syracuse NY
-
http://www.syracuse.ny.us/Parks/clin...areEvents.html
This is a bit of a ways away for those of us who live on the West side of the state but worth it for cosplays involving characters who are from "Big Cities". Yes we have Rochester but our downtown is no where as nice as this one or clean. This is where we did our shoot for Durarara. Plus there is an awesome Tea shop called Roji's as well as some nice bars.
Boldt Castle, Alexander bay NY
-
http://www.boldtcastle.com/index.htm
This is a beautiful castle setting. We originally planned to cosplay our daughter of evil costumes here but because none of us had been there before besides me when I was 8 we all wussed out on it but wished we hadn't.
Oh did I mention its on a heart shaped island?
The George Eastman House and Theater, Rochester NY
-
http://www.eastmanhouse.org/
I haven't been here since I was 10 but it was a beautiful house with a great garden as well.
So those are all the ones I know of how bout all of you?