I'm selling these two wigs to afford some new cosplays I want to do since I never finished these. I was going to cosplay Mikuo at a convention so I bought the wig ahead of time, but sadly I wasn't able to afford the rest of the costume in time. It was tried on once or twice and has been kept in it's bag since. It'll need some styling done. Probably a hot water treatment on the bangs. It's a really good aqua color for Mikuo though, I loved that aspect about it!
I bought the Yuna wig when I was planning to remake her summoner outfit. But I didn't get the rest done, and it'll probably be a long time before I get around to it now. The wig is really beautiful! It was tried on a couple times, but mostly kept in it's bag or on a foam head. It's a lovely chocolate color. It doesn't have a skin top, but it has a very nice thickness to it. No worry about the netting showing at all. I did some styling to it, so it may not need any adjustments.
I'd like to get $12 for Mikuo, and $20 for Yuna.
Shipping will be $3 within the US. I can ship internationally too, but I'll have to check the shipping price to any other countries.
I prefer payment through Paypal, but other methods might be okay too.
Mikuo photos:
I couldn't get the color to show completely right. It looks more blue in these pictures to me, but it actually has a green shading to it.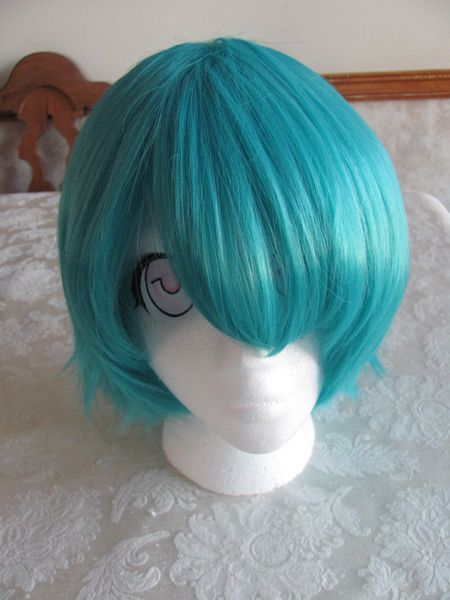 Yuna photos: