Introducing MikomiCon's First-Ever
Hetalia: Axis Powers
Cosplay Gathering & Fandom Panel!
[.Brought To You By Symphony Cosplay.]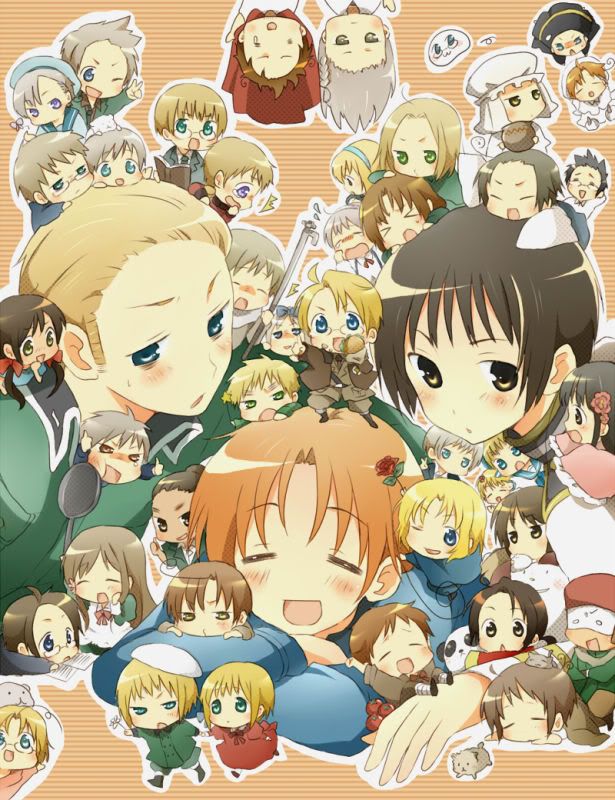 Artwork shown above (c) to it's rightful owner.
"Things are about to get
INTERNATIONAL"
Watch For Updates On YouTube:
* Trailer *
http://www.youtube.com/watch?v=tB0t0PUWkd8
* LiveJournal Community Link *
http://community.livejournal.com/hetalia/3504797.html
Date: Saturday, September 19th
Panel Location: (pending...)
Panel Time: 10 - 11:50 AM
Cosplay Gathering Location: (pending...)
Cosplay Gathering Time: Noon
Please Reply To This Thread
In The Following Format:
NOTE: PLEASE DO NOT POST HERE
IF YOU DO NOT PLAN TO ATTEND THIS EVENT.
For cosplayers:
(Your Name Here)
as
Name of Character Here
I'll be attending
(the Panel Only/the Cosplay Gathering Only/Both Events)
For various folks dressed as normies:
(Your Name Here)
as
(Whether you are a cameraperson or an audience member etc...)
I'll be attending
(the Panel Only/the Cosplay Gathering Only/Both Events)
This will help me organize this first post here.
~*~
Hetalia: The Shot Heard 'Round The (Otaku) World
Why spend money on expensive plane tickets and hotel fees on your vacation when you have the whole world right here in your own fandom? Anime as we know it has entered it's own Revolutionary War with the fandom that's quickly rising to power -- Axis Powers, that is! Join us for our very own "World Summit" at MikomiCon 2009, in order to celebrate Hetalia's anime adaptation, which entered it's second season this August!
Some of the topics we'll cover at this meeting of the world include:
So what exactly is Hetalia anyway?
Hetalia and World History
Viral Videos - Hetalia Style
Popular Fanon - from crack parings to almost-not-quite-canon!
Hetalia and its Message for World Peace
Panel Information!
Your Hosts:
Zanney as...
Matthew"Canada"Williams
The brains of this operation. Canada is pretty much your guide to all things Hetalia this weekend, so make sure to pay close attention. (He has a tendency to vanish right before your very eyes!)
Ally as...
Alfred F."America"Jones
Thinks he's the hero, when it's actually something like the opposite. America's heart is in the right place though, which is why his job is to push the pretty buttons on the projector. Yay~
Barb as...
Arthur"England"Kirkland
Costco products share his last name. Which is why we were dumb enough to have the tasteless England be in charge of the food. OH GAWD what have we done!?
Alana as...
Francis"France"Bonnefoy
A shameless flirt. France is pretty much the life of the party, and given enough wine he'll be sweet talking you all the way to home plate -- in FRENCH --- before you even know what just happened. Beware his gyrating hips.
~*~
Cosplay Gathering Information!
Some Possible Activities:
Please feel free to suggest anything you would like to do. I'm open to all sorts of suggestions~
Standard Hetalia Event Activities...
Waifu-Carrying Competition
Singing, Dancing, Skits and Shenanigans
Group Photos
Fruit Basket (Not the Manga, you knuckleheads!)
Potluck (maybe)
List of Attendees:
Let me know if I leave anybody out and I'll make sure to add them!

Note: * indicates someone from the APH LiveJournal community.
# indicates someone from Cosplay.com.
% indicates someone who does not use either web site. *le gasp* Yes, people like that DO exist.
The Americas
America
#LawlietApple, #Axelasuke
Canada
#Cosplay Cyborg (me)
Cuba
Asia
China
#ArtGrrl
Japan
Korea
Hong Kong
Taiwan
Vietnam
Thailand
Tibet
Europe
Northern Italy
*jaydestarlight %Alex's brother, #Tokio Amarfi
Southern Italy
#danniekay23
United Kingdom
%Barb, #27XxJuDaImExX27's friend
France
#MokubaKaiba
Spain
*mapleleaf
Northern Cyprus
Hungary
Belgium
Eastern Europe
Russia
#Clockwork Alice
Latvia
Poland
#nyanyakoyo
Lithuania
Belarus
Ukraine
#27XxJuDaImExX27
Germanic
Germany
#Angel-Ofire
Prussia
#ninjagal6
Austria
%Alex
Switzerland
#27XxJuDaImExX27's friend
Liechtenstein
Northern Europe
Sweden
Finland
#Hitomi-chan99
Denmark
Norway
Iceland
#Fullmetal
Mediterranean & Others
Greece
Turkey
Egypt
Seychelles
Oceania
Australia
#LonelyOtaku
The Ones Who Started It All
Chibitalia
Shinsei Roma
Roma-jiichan
Germania
Others
Camerapeople
Audience
*haro_chan, #PyroXElric, #sporatic
Misc.
~*~
Let the
shoosting
begin!!