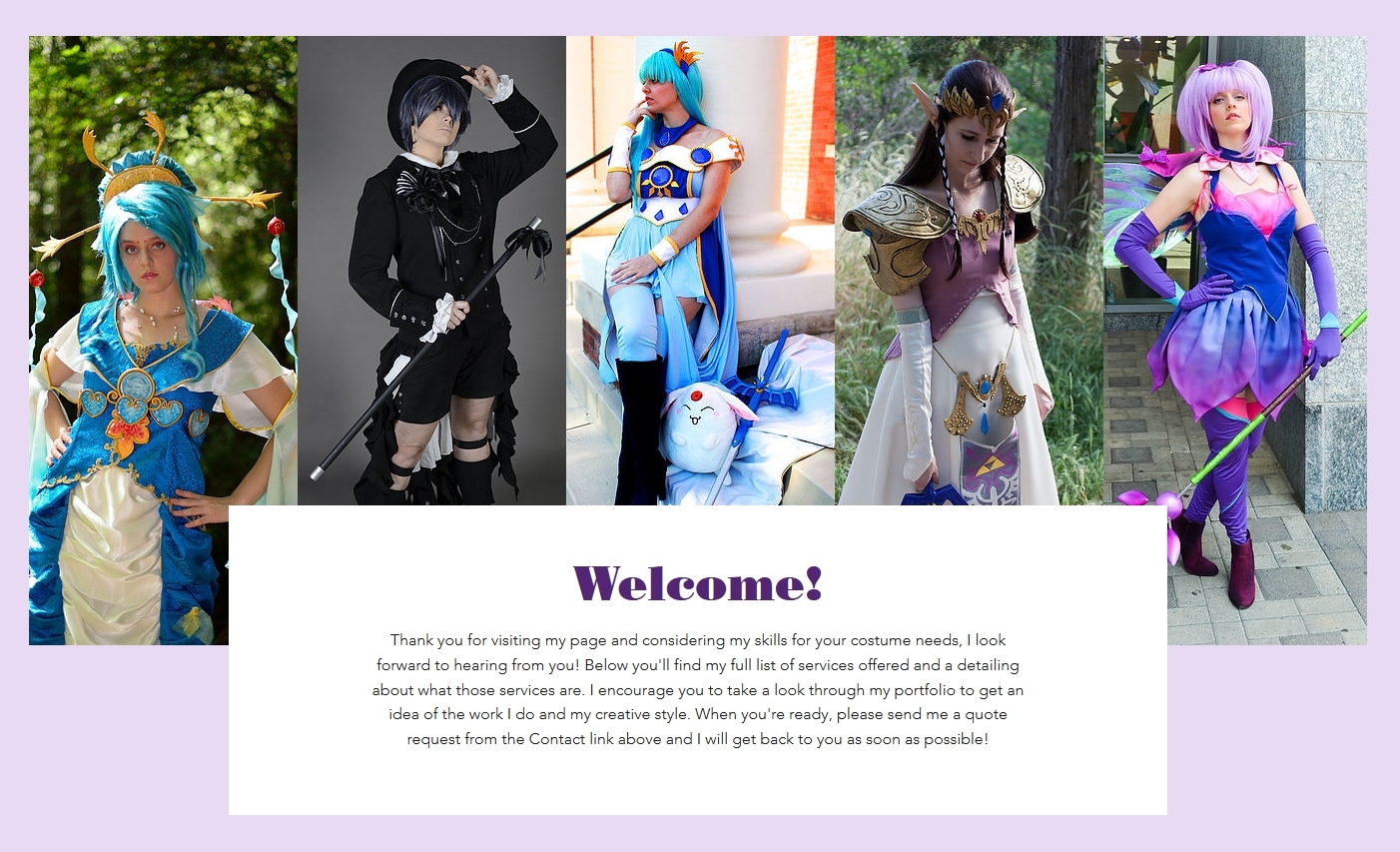 Hello, and thank you for viewing my commissions page! My name is Caitlin, also known as Adaria. I have been sewing for over ten years and I am professionally trained as a costume designer and costume craftswoman from High Point University. I graduated in December 2012 with my degree in Technical Theatre, a focus in Costume Construction, and since then have run my own business. Prior to, I designed costumes for our local theatre companies, created cosplay for myself, and built costumes for various theatre programs in school and out!
It is currently best to contact me via my website; www.adaria-designs.com You will reach me fastest using the quote form on said website!
Please note that contacting me directly without the information I require as listed on
www.adaria-designs.com
will otherwise ensure you do not get a reply at all.
>>>>>>>Also, DO NOT send a request here on cosplay.com, it will not be responded to. I'm sorry for the inconvenience.<<<<<<<<<
What To Expect When Emailing Me
I like to get all of the details up front, before I begin working, and so when you send me a request, I will reply as quickly as I can with a list of questions that come to mind while I do a bit of research on the costume. It is likely you will get "a book" in response, as I am very thorough, so please keep this in mind when you're contacting me.
I am not a fly-by-the-seat-of-your-pants commissioner. I want to know every detail, every stitch you want me to put into your costume. It is
yours
and I am merely the hand crafting it. Now, I realize not everyone knows or understands the process of sewing and creating clothing, which is also why I ask so many questions. We don't always think about the construction process, especially if we do not know where to begin or what that entails.
I will work out with you everything down to how you will get into the costume, if it's complicated. At the time of writing this, I am in contract with a client looking for a ballgown, which will consist of a corset, crinoline, and the dress itself which will come in two parts. We have discussed how she'll dress underneath, how she'll put the costume on, and how she will move in it--and she doesn't even have the costume yet.
I want you, my client, to know exactly what is happening as if you were making this for yourself. I wouldn't have it any other way, either.
Payment
The following information is a basic layout of how I go about quoting and pricing commissions. You can see further detail on my website, adaria-designs.com
I currently charge a flat rate. Labor hours are estimated and includes travel and shopping for materials, and the build of the costume. Cost is then agreed upon based on estimated time to build. If I work egregiously under or over, we will re-negotiate price.
I create payment plans for all clients. Your first payment must be made before you are officially listed on my calendar and your working dates are booked.
You are responsible for the payment of all materials
You are responsible for the payment of shipping and handling. I only ship UPS.
There is a 2.9% transaction fee , which I also require my clients to pay. When I send an invoice to request money, it will include whatever that percentage is.
ALL PAYMENTS ARE NON-REFUNDABLE!
I am sorry for the inconvenience in this, but the money you pay toward labor pays my bills. It has been spent on keeping my lights on, feeding my belly, and making sure I do not freeze this winter.
www.adaria-designs.com
www.facebook.com/AdariaDesignsCosplay/
www.instagram.com/adaria.designs/