@Biscuit yay, sisters! Have you seen the step sisters a la Into the Woods? With the new movie I'm looking forward to "standard" variations on them (the original musical has them in perfect 1830s gowns!
@Aurora's Heart Thank you
Sorry aout your friend's Firo. I understand in a similar but not way- I have joint deformities in my wrists fromRheumatoid Arthritis, which when particularly active triggers some of those classic FM points. And so I do adapt costumes where needed too. More so in terms of reducing pressure on ribs and making them easy to get in and out of. That last on takes a while to be willing to do.
So I just wanted to give you a kudos for working with her needs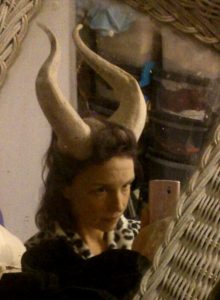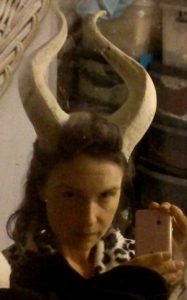 Started cutting the horns down to shape and to be able to be worn. I still need to cut a tiny slivver from the front and slightly more at the back and then vents in the top.
The left horn base is too heavy, but this is pronounced more in the photos due the the angle of the camera and mirror. And me benig shortsighted and unable to see what I was doing.
The horns hold on just with hair, though my hair is now far too short to pin over the top. I need a lace front wig for this "natural" look.
But I also narrowed the tips and made those curves much more pronounced, Hampered by my dust mask and goggles not cooperating so I couldn't see. I have a respirator with multi cartridges, just have to find it after a clean and disinfectant.