Now that I have had time to take some photos, here is my review of the KimChi brand circle contacts in "Prince Black".
Brand:
KimChi in "Prince Black"
Specs:
16.0 mm diamter (HUGE! Normal is 14.0mm); 8.6 base curve. I got these in prescription.
Store:
Geo-Lens House on Facebook
Cost:
$13.00 USD for the contacts themselves. With shipping the total was $26.55, shipping from Malaysia to Indiana, USA. These are some flippin' affordable prescription contacts!
Transaction Review:
I was hesitant at first because they are a store on Facebook, but I took the plunge and am very happy I did. Their communication was very good. Their English is meh, but they were quick to respond and helpful with questions. When I put in my order, they processed and shipped the next day. The shipping took only a week! I was expecting to wait up to 3 weeks for my order, so I was very pleased! But just to be safe, I recommend ordering with plenty of time to spare.
What I was going for:
This was NOT meant for a natural look. I was looking for black contacts that would give me decent coverage but also enlarge my eyes for a cartoony black look. I found a good pair from an American store that had a smaller pupil hole and had a larger-than-average diameter, but they were $80 for the pair and I did not want to spend that much on a whim! So I decided to give a pair of black circle lenses a shot since they run cheap. I know they are meant for Asian/dark eyes, and have a big hole for the pupil (a disadvantage when I have medium green/hazel eyes), but they were cheap, so I figured it was worth a try. If they weren't going to work, I wasn't going to lose much, and if they did work, then woohoo! It was a challenge trying to find contacts that would give me coverage, as most were more like rings around the eyes. The KimChi Prince Black lenses were the best I could find.
Comfort:
4/5. I used to think I could only comfortably wear contacts with the 8.4 base curve, but these are 8.6 and feel fine! I feel like they keep my eyes a little drier than other contacts I've worn, but it's not bad. I haven't gotten to wear them for more than a couple of hours yet, but I expect they will feel fine for 4-6 hours, if not a little longer.
Result:
As expected, in most lighting you can see the inner part of my iris, but overall they give me the effect I was looking for - unnaturally big and black! These look very alien-like on me when I'm out of costume, as my hair/eyebrows are light brown (very unnatural combo) and the diameter is huge. But these are great if you have a darker complexion and/or are just looking for the same unnatural, cartoony effect that I was for a costume. The photos below look a bit extreme in contrast, but really my natural eyes are not that obvious. If you're standing close you can kind of see it, but far away they look fine. The first and second photos are the most accurate to how they look in person.
I'll let the photos do the rest of the talking.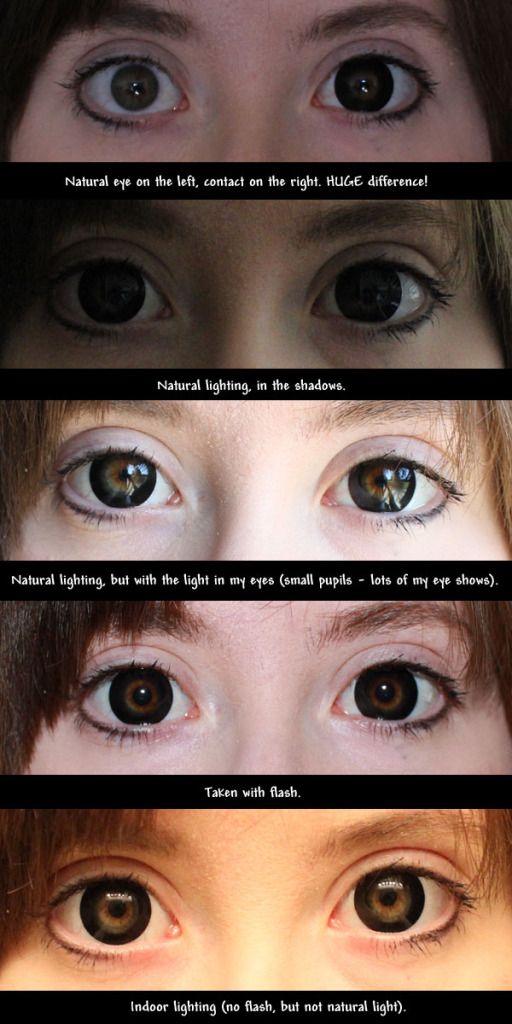 Overall rating: 5/5! Transaction was great, price was great, they're comfortable, and gave me the look I wanted. It would be nice if they gave me more coverage, but considering they were only $25 for the pair, the lack of complete coverage is worth me saving $55!