Brand:
FreshLook Colors (Opaque)
Contact Color:
Violet
Normal Eye Color:
Medium Brown.
Comfort:
Great.
Long lasting. I wore them all day long with no discomfort or dryness.
Type:
Prescription
Cost:
$35/box. Can be had cheaper online
Each contact/pair lasts 2 weeks.
Color/Intensity:
Fairly nice.
I'll have to add a non flash photo. I threw my Mom-inlaw for a loop
when she first saw me with the contacts (indoors). They are very
noticeably purple. The nice thing is that they show up light-purple
indoors and out. Have a slight tendency to look light grey in some
indoor lighting. Even the Hyatt's dim night time lighting allowed
them to look purple though.
Overall:
A
Both photos taken indoors in convention center lighting with flash.
First picture is my normal eye color. It's a medium brown. On an off note, I don't think I'll try shimmery foundation (makeup) again.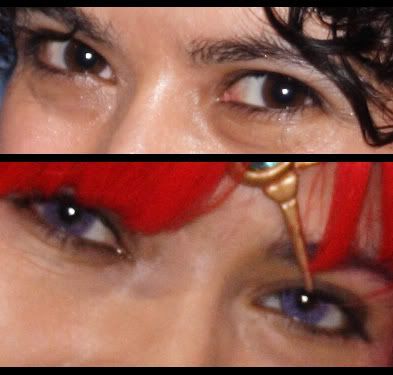 I also tried
FreshLook's colorblend
line in
lavender
(test contact). It barely even registered in my eyes at all. There was no discernible difference. I'd recommend other people with the same eye color to steer away from the colorblends and go for the opaque color line instead.