So, I noticed this a few times before..One time it was a little while ago so I don't remember and not my things, but the second one I saw, someones ad had my picture in it..Now I know that ad did not have my picture in it before..I remember because I specifically remember looking at it..It was a for sale cosplays ad and the first picture magically changed to one iI have in my own ad..
However, now I see it in MY ad..
I looked at my own ads and saw this: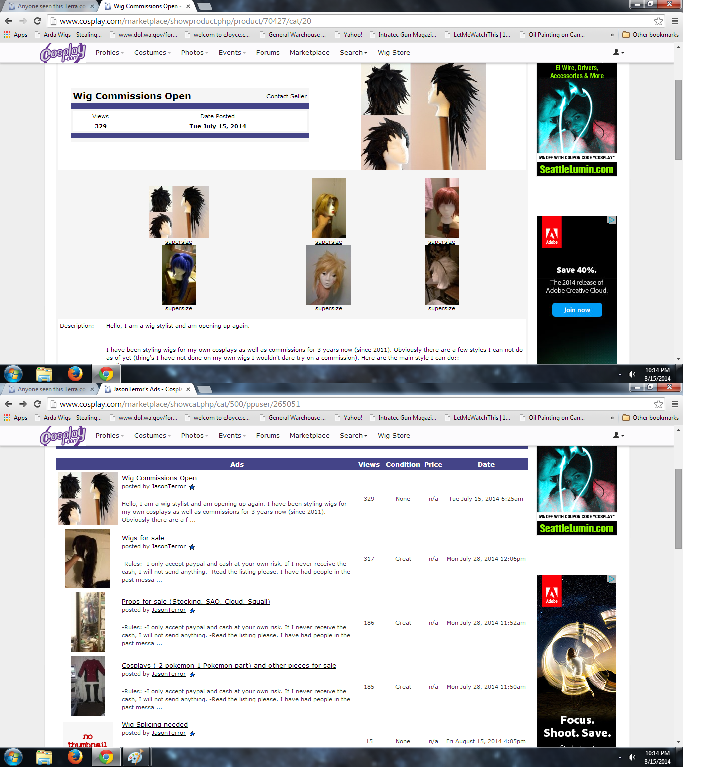 As you can see, there is a picture that is for the wig commission ad. That picture of the long spikey wig is NOT MINE..I did not upload this picture. As you can see it shows that I somehow did..
I would please like this fixed..I do not want my good commission name tarnished by false photos and showing work that I have claimed I can not do (the hairline is something I can't do, but looking at that pic, they would assume I can).
Please if this is a bug, fix it. Thank you
__________________
こんにちは、私の名前はジェイミーです
バイバイ、人形!!
Cosplay DA
Regular DA
Tumblr
Commissions Here
Kumoricon 2014 (so far):
-Sora (Kingdom Hearts 2)
-Alice (Hearts no Kuni no Alice)
-Black&Blue Loli-style Dark Magical Girl O.C.
-Akaito (Vocaloid. Black & Red Ver.)
Dream cosplays for now:
-Tsuruya-san (Haruhi Suzumiya)
-Kagami Hiiragi (Lucky Star)