Prop Tutorial: Deco-Carts (customized luggage)
Customized Deco-Carts!
A Layer's best friend is their cart, so don't neglect it!
"What's a Deco-Cart?"
Every cosplayer needs a carry-cart to transport their luggage, props and wigs. Some people have lots of props, complex wigs and a lot of makeup to move around too... Our carts help us out a lot, so why do so many of us take them for granted?
I often find myself wondering "Why do cosplayers carry around such plain carts?". With so few designs and colors, it's easier to mix up carts or pick yours out of a crowd, isn't it? That's why, the idea of a "deco-cart" was born! Why not get in on the popular cosplay-world movement and customize your own?
In this article we'll introduce some of our own original deco-cart designs. We tried to play with a few different types and come up with some ideas that would be easy for Layers to use.
Making them is easy! It's just like decorating a cellphone or a portable game-system, so let your imagination run wild and you'll be designing like crazy in no time!
If you want, you can plaster your cart with your own decorations, or you can alter the designs you learn here. "Gosh, this is like a homework assignment" right? But hey, I really want to see some cooler carts!
We're giving away the carts introduced here as presents, too, so take a good, long look at them, okay?
Oh, and if you come up with a neat deco-cart of your own, we'd love to see your pictures!
With Ribbons and Lace, You Can Achieve Sweet-Lolita Mode
If you've got a black polka-dot cart, a few ribbons, a bit of lace and sparkly stones can give you a cart that matches your sweet disposition perfectly.
We made it like this!
First, decide on a design.
Point:
Making your design is the most important part! To make sure you end up with just what you've envisioned, be sure to sketch out every detail.
Gather the materials you need for your design.
Point:
you can use leftover fabrics and trims from your costumes too!
Make a frill with a sewing machine.
Attatch the frill to your cart
Sew on your lace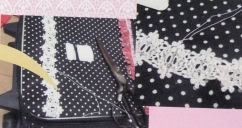 Point:
This kind of cart actually takes a lot of work. Some carts are made of material that can't easily be sewn onto, so please check beforehand! When you sew on trims, be careful not to sew places you don't want sewn. What happens if you sew shut your pockets...?!?! Don't rush, or you'll make a mistake!
(continued in the next post)