Thank you, everyone, for your feedback and criticism! Unfortunately, I didn't get a chance to read and act on the advice you've given me before my most recent photoshoot (also KHR! with a new cosplayer).
Photo 1-
Winter weather makes lighting a pain. Dx This shot was the one with the clearest flag. I'll try using a flash, though, and see what it does.
But, won't the flash reflect off America's lenses?
Photo 2-
My models are very shy when it comes to in-character pairing shots, which is why we hardly have any. I'm glad to know that you like the photo!
I'm debating which version I like better, the blue sleeve or greyed-out sleeve (It looks greyed out on my screen, anyway).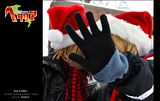 Photo 3-
Thank you, again! I would like to try this shot again this winter, except from on the ground like ArkhamQueen suggested. : )
Photo 4-
@brucer007 I'm so happy you noticed the ladder frame! xD
I struggled with fitting all three of them into one shot without having an image that didn't fill the frame, and the ladder was my godsend. <3
Photo 5-
cropped the yellow, looks great. : D
Photo 6-
I cut her legs off at an odd position when I took the photo, so unfortunately I can't fix that. Dx I would like to try this shot again this winter, though. : ) (My Bel is going to be sick of my shoving a camera in her face by that point, LOL)
As for the logo, it's an editing style I've seen used by the Tuxedo Team @ deviantART, and as I played with it more, it became less huge and obnoxious like in my first set. xD I use the black bars to credit the cosplayers on the photo itself, also.
Thank you, again, and please look forward to more photos!
EDIT -
Here are some photos from my most recent photoshoot with Coeur d'Cosplay. After weeks of rain and cold, we were very thankful for a sunny day to take photos (except Atakiri, who promptly discovered that sunny weather brings the spiders out of hiding
)
KHR!
Cosplayers: Atakiri, SDF, and
Jessica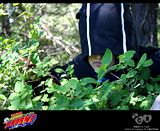 Complete photo collection located
here
.
I have two photos still from the shoot that I haven't finished editing mostly because I'm stuck as to what I should do with them, and they aren't exactly fantastic.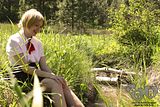 model: Jessica
models: Atakiri, SDF
Bad Photoshop job is bad.
C&C, please! C: