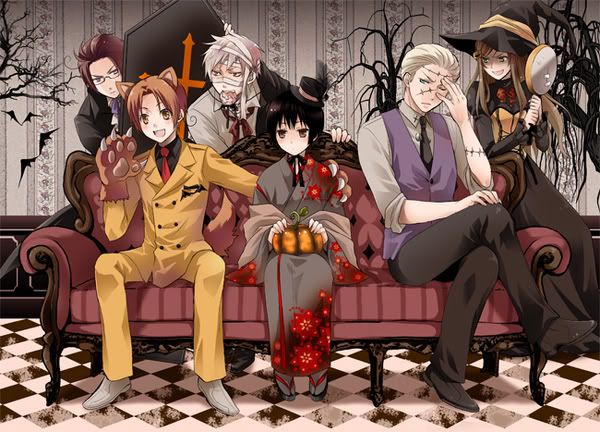 Hetalia Day 2010 in LA
Location: Anthony C. Beilenson Park (Lake Balboa) in Van Nuys, CA
Date: Sunday, October 24th
Time: 10am to 6pm
Just a quick summary of what Hetalia Day is: Oct 24th is United Nations Day. Someone out there in livejournal land had the idea of applying this to the global Hetalia fandom. So what does that mean? A day of worldwide gatherings and the general celebration of all things Hetalia!
No more sweets for the picnic please. We need more food that aren't sweets. Thanks.
! VERY IMPORTANT ANNOUNCEMENT! PLEASE READ! !
Things to keep in mind about the park
HetaMUN details
Achtung!

Due to the sheer size of this gathering, we want to be better prepaired for this next one. That means we need more organizers and volunteers to help keep some kind of order in what would otherwise be, well, a big mess. If you would like to join as a volunteer, please contact either me or Cosplay Cyborg via IM or e-mail. Our contact info will be listed at the very bottom of this post.

Please refer to the recruitment thread HERE.
Pretty much, Cosplay Cyborg and I are trying to re-organize everything and review last year's event so that we can plan a few things more efficiently and make sure everybody has a blast for a second year in a row.
We've found a better location -- Balboa Lake in Van Nuys, CA -- where the regular visitors and rangers actually enjoy it when cosplayers come to play! We're working on getting all the park security issues out of the way well in advance to avoid last year's little incident with the props.
We also have a newer, more efficient updated set of the rules for this event, since we got into some trouble last time. We want to make sure we'll be able to come back again in 2011 and have just as much fun for years and years to come, so in a way, we're a bit stricter because we want to be absolutely PERFECT this year. Please make sure to read and review the Hetalia Day in SoCal Code of Conduct (see second post) for this event and stay tuned for updates.
And yes, this gathering will in fact be Halloween themed yet again~! We encourage you to get creative and come as your favorite character in Halloween garb, but it's definitely not a requirement.
-------------
Games and Contests:
Miss Hetalia Competition
HetaMUN (Model UN Debate)
HetaSNAP! (Photography Competition)
Hetalia Twister
Are You Smarter Than America? (A game show implying America has the intelligence of a 5th Grader)
The Awesome Me Says
Please fill out this form in your reply:
Country and costume you will be coming as (Ex: America as the Hamburglar):
Are you coming via public transportation?:
What you are bringing for the picnic:
Additional Info:
--------------
Attendees
* = Livejournal
# = deviantart
% = Other
The Americas
America: #UnwantedRaine (Cowboy), TamerLorika, Cosplay Cyborg (Indiana Jones), ColonelRobin's friend (Superman), #ZazuAndHyenaFan, insntyco's friend (Batman)
Canada:
Cuba:
Asia
China: Bittingdemon, ate_flexi (Police)
Japan: 27XxJuDaImExX27's friend, xShadow-Lightx, Koreria (Mafia)
Korea: katokatsu (Nyotalia)
Hong Kong: yirico92's friend (Mafia)
Taiwan:
Vietnam:
Thailand: ate_flexi's friend
Tibet:
Europe
N. Italy: souseiseki (Tomato), Yaoishoujo (Cat), spicykurry (Luigi), ColonelRobin's friend (Mafia)
S. Italy: scar66's friend, katokatsu (Nyotalia Tomato)
United Kingdom: OrangePokitaru (Arthur Bond), #Emobunnygirl, Flainorkeyblade (Arthur Potter)
France: Zoreta (Reynard the Fox), MokubaKaiba (FIFA 2010), Omega-Shinobi (Vampire), hinavalkyrie (Chef)
Spain: hd1bar, Chris, Conquista (Zorro)
Hungary: YoYogurt's friend, ColonelRobin's friend (Goth)
Belgium: FullMetalVamp17 (White Rabbit)
Netherlands:
Chibitalia: Rukia-onee-chan (Neko)
Holy Roman Empire:
Grandpa Rome:
Germania:
Eastern Europe
Russia: Zoreta's friend, #Bumblebeeisbomb, birdybird's friend, #ZazuAndHyenaFan's friend, insntyco (Capitalist)
Latvia:
Estonia:
Poland: 27XxJuDaImExX27's friend (Pink pony?), birdybird's friend
Lithuania: birdybird
Belarus: Hitomi-chan99 (Alice), #Rinkuu, Belarus516, spicykurry's friend, Annalyn (Lady Gaga)
Ukraine: techrabbit13 (Queen of Hearts), #Violetthehedgehog, ninjagal6 (Mail Order Bride)
Bulgaria:
Germanic
Germany: Kitsunesraine, scar66 (Young ver.), Shaxel (Big Bad Wolf), kyoko-TOKO
Prussia: Clockwork Alice (Nyotalia ver. bloody Snow White), YoYogurt (Teutonic Knight), SabienStrange (Little Red Riding Hood), vryemni (J-Pop), BAMF_9564 (Multiple), RubyTuesday (Zombie)
Austria: 27XxJuDaImExX27's friend (Mozart), aikostar, Ichigo_no_Hime's friend, Emperor Lelouch (Conductor), FullMetalVamp17's friend
Switzerland: TokioAmarfi (Nyotalia Alice), hinavalkyrie (Banker)
Liechtenstein: 27XxJuDaImExX27 (Little Red Riding Hood), Narwhalificatio (sheet ghost)
Northern Europe
Sweden:
Finland: squkyshoes (Viking)
Denmark:
Norway: yirico92 (Pink bunny)
Iceland:
Mediterranean & Others
Greece: #Lovelessxzero, ColonelRobin (Cat)
Turkey: #Rockpup5, Conquista's friend (Bandit)
Egypt: Eveil
Northern Cyprus:
Monaco:
Seychelles: LadyNefrodiel (Pirate girl), spicykurry's friend, unasuvas (Gakuen)
Oceania
Australia:
New Zealand:
Micronations
Sealand: Shyloh (Nyotalia)
Seborga:
Wy: Amethyst Nat, Saru-chan
Original Characters
Philippines: ScarletRhapsody (Spanish-American War), Ryusan777
UN-tan: jetspectacular
Others
Cameramen: Jerry
Regular Attendee: ZackPuppy, GingaDreamer, Creature-It
Undecided: Sokirawi (Russia), Bittingdemon, Saru-chan's friends (Hong Kong and Greece), SirenaBlack, Deadlywings, Ichigo_no_Hime, PhantomShadow (Turkey or Seychelles), #smilexstyle
--------------
Who is bringing what?
Food, drink, plates/utensils:
Clockwork Alice – Bratwurst, apple strudel, candy
OrangePokitaru - Fish and chips
27XxJuDaImExX27 - Flag cookies, mochi cake
Zoreta – Cookies, fudge
Narwhalificatio – Potato Salad, pie, chili, etc.
yirico92 – Chips and other junk food
Amethyst Nat – Cookies
squkyshoes – Crackers
ate_flexi - Fried rice or sotanghon
PhantomShadow - Rice Krispy Treats and Utensils
SabienStrange – Cookies
LadyNefrodiel – Plates and food
Violetthehedgehog - Sunflower seeds
Rinkuu - Banana chips
MokubaKaiba - Tents and food
ZackPuppy - Chips
RubyTuesday - Drinks
Rukia-onee-chan - Plates and napkins
Lovelessxzero - Cupcakes
Yaoishoujo - Pasta
ninjagal6 - Corn salad
spicykurry - Drinks
Rockpup5 - Cups
Conquista - Paella and sangria
katokatsu - Kimbap
Koreria - Surprise Onigiri
Shaxel - Water
siomai - Siomai
BAMF_9564 - Peanut butter cookies
RubyTuesday - Flan
ColonelRobin and friends - Soda
hinavalkyrie - Pizza
Games and Activities:
Cosplay Cyborg – Game prizes
squkyshoes – Chairs, photoguide for HetaSNAP!
MokubaKaiba - Twister
-------------
Contact Us
Send us an email for volunteer information here:
hetaliadayinla@gmail.com
Clockwork Alice's Contact Info:
AIM: KurageOngaku
MSN:
erotopia_kei@hotmail.com
dA Note:
http://waffelhaus.deviantart.com
Livejournal: neurotic_banana
E-mail:
aliceanachronism@gmail.com
Skype: macaron.massacre
Cosplay Cyborg's Contact Info:
AIM: LilZanChan
MSN:
MutantSunflower@live.com
dA Note:
http://regencymothball.deviantart.com
Livejournal: invisimatt
E-mail:
MutantSunflower@gmail.com
Skype: regency.mothball
*Please Tell Us Who You Are When You Add Us Or We Will Ignore Your Message!*