Hey guys! I just debuted my Princess Azula costume at Comic-con last weekend, but I'm not really satisfied with it yet, I don't think. I kind of want your opinion on the costume, if you don't mind. I don't have many shots of the costume, and only one or two are actually clear....and none show all the detail work I put into this thing. But any tips would be lovely!
Also, before anyone mentions the hair--my intent was to do Azula from the finale, at the VERY end, when her bangs are all chopped up, and her hair is down. Like during her battle with Katara. If there's any way I can make that come across better, I'd love to hear it, though!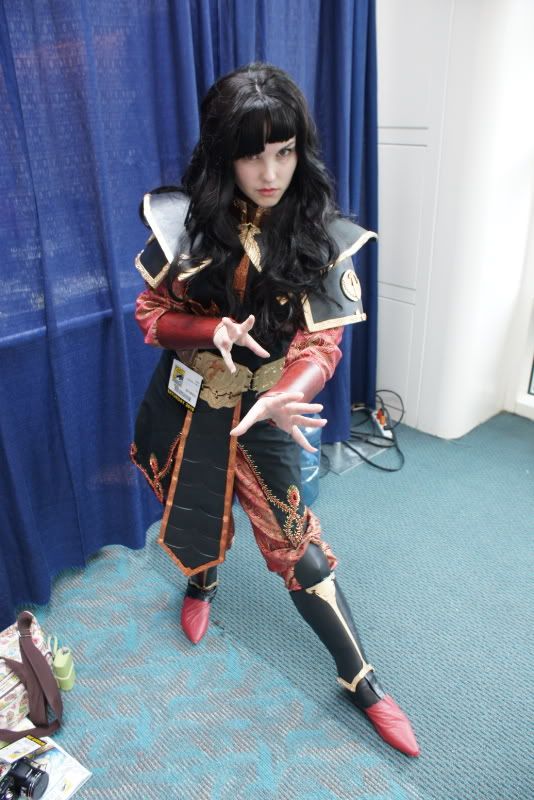 I think the fabric I chose was wrong, for sure. I'm planning on getting some dark red, non-patterned fabric for future cons. My question to you is should I use like a satin fabric, or a matte? I feel like Satin is appropriate being that it's asian inspired, and she is a princess, but I also feel like matte may photograph better, and just be the better option altogether. And if I were to get a matte fabric, what kind would look more authentically old?
reference (I'm having the hardest time finding any all of the sudden!):
http://img.photobucket.com/albums/v4...atty/azula.jpg
(hair)
http://images1.wikia.nocookie.net/__...mmon/blank.gif
(best I could find
)
Thanks in advance for any and all advice!