Quote:
Originally Posted by
Chibi_Kimu<3
Im doing a cosplay of Maka Alburn of Soul Eater for Youmacon in October. Making her costume is not a problem. I got the plaid skirt, blouse, tie, and sweater vest on eBay for $20. But her boots are gonna be the challenge. I have no problem getting a pair of size 10 boots. But what I would like to know is how to put the straps on them without having them fall off. Her pattern pretty straight forward. What's the best way to achieve this?
The straps can be trickey specaily the bigger ones on the top of the boot cause depending on how the boot you get closes you have to have something that can be removed or stretch.
Here is what I did and it was really really simple yet took me forever to brain storm. Hot glue and velcro. The bottom straps are just hotglued in place. The 2 straps on top have 2 peices of velcro so that I can take them all the way off and put them on. I also did it this way so I could cover the zipper in the front that is used to keep my shoes tight and closed it covers this part quite well to. Now they are not nearly as big as maka's are however with the boot I had and how they would have looked on me I opted for acaully doing it so both straps were different length one being wider then the other.
Pictures to show how it works sorry the boots are a bit dirty they have been well used already and need to be cleaned and retouched up haha.
This is what they look like all put together
Taking the first set of velcro off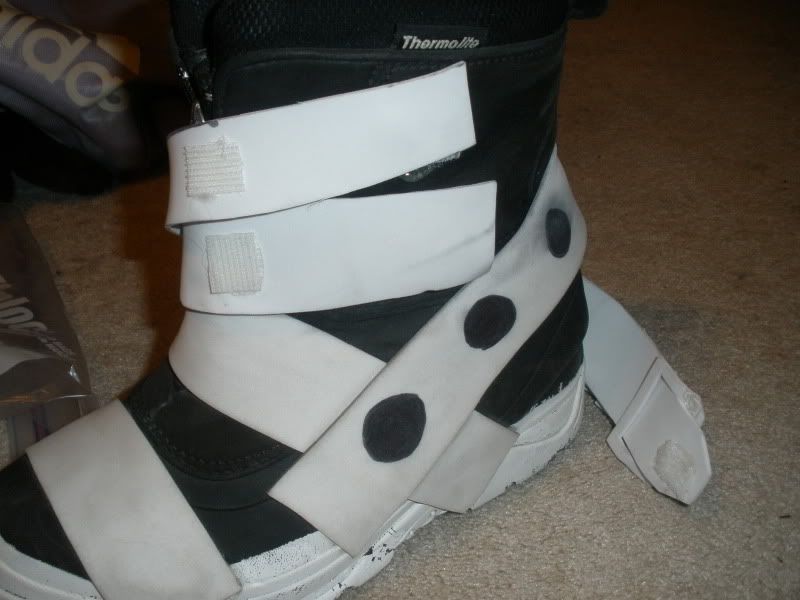 Both set's of velcro off so you can see the straps and my placement of the velcro and how it hides the zipper