Quote:
Originally Posted by
hollowchrist
Man you guys suck. I don't have the time to workout or the discipline to stay away from the cheeseburgers. ;.; My weight yo-yo's like.. a yo yo. >.>;;
if you have time to post topics and make cosplay you have time to workout :P
Don't get me wrong I love cheese burgers I eat them all the time, especially on 49cent cheeseburger deals at McDonalds lmao
HAHAHAHA
Remember your supposed to eat 6 GOOD meals a day, cheating on 1 or 2 isn't bad as long as your not eating it with large fries and a large soda. Unsweet Ice Tea can cut you around 500 calories for a large drink, and fries another 500 or so.
Also the more you workout the more you need to maintain your lean body mass. Look at Jason Huh he's my friend's cousin.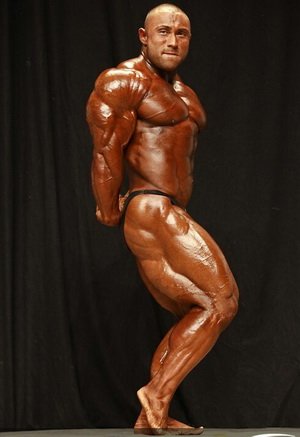 Just became IBFF pro this July. He's already noted as one of the top bodybuilders in the industry especially as his leg's are concerned. he's a regular at Cheeseburger Cheeseburger lmao!
The more you workout, the more your allowed to cheat on your diet, many body builders still don't obtain enough calories to grow bigger. Getting good solid diet often lacks clean calories after all.
That's why I always say workout, and NOT TO DIET at your start, and let your willpower build cause soon your gonna go god damn it's gonna take me 20 minutes of RUNNING to burn off this can of soda!!!
As your body changes your confidence and willpower will get stronger period. Also even if you workout 30 minutes a WEEK, after a full year you'll have noticeable differences. The hard part is pushing yourself to do 30minutes of INTENSE workout, and not just 1 set of benchpress then rest for 3-5minutes then doing another set.
Basically my 30 minute workout is
I'm putting my weights as example.
Lat pull downs 135 lbs wide as possible explosive and fast 10 times , NO REST then 105 lbs 10 times moderate speeds , NO REST then 75 lbs 10 times slowly. 1 minute rest then Repeat 2 more times for total of 9 sets.
I repeat that for everyworkout, do about 6-8 exercises for each muscle group. This is circuit training with HIIT training included.
Circuit training is quick intense workout that keeps your heart rate elevated MORE effective in burning fat and building muscle in recent studies.
HIIT is high intensity interval training which incorporates mixing up your workouts. Like if your gonna run you run jog walk sprint in random order. This burns more fat than running in a constant speed, think of cruise control saves gas while on the highway, if you have a heavy foot drive like a moron inbetween cars and braking a lot you'll burn more gas.
With my biceps and triceps I do 2-3 sets of continous drop sets.
Starting from 45 pound curls, to 40, 35, 30, 25, 20, 15, 10, 5, 10, 5, 10, 5 that's 1 set with NO rest inbetween. 1-2 minute rest and repeat. Alternating from flat curl to hammer curl (flat curl is where your palms are faced up , and hammer is where your thumb is pointed up) Since it's Bicep which Bi means 2 it targets each muscles separately
Triceps you can do it with push downs with palms facing up, thumb up, and palm facing down. I continously go from one grip the next which completely blows up my triceps.
biceps and triceps are easy to workout and pretty basic since it's primarily one movement, I do biceps with dumbbells and triceps with cables, but often mix things up.
NEVER get on a set routine, ALWAYS mix it up to help avoid plateaus in training.
REMEMBER THE HARDEST WEIGHT TO LIFT IS YOUR ASS OFF YOUR COUCH