Quote:
Originally Posted by
UsakoLuna
I never knew that about goldfish. My betta tank doesn't have a filter, I just change about a quarter of his water every week.
Peanut is social, he just doesn't like being picked up. He doesn't bite, just squirms. His cage has a little part that come off (a petting zone) and we put him in there to show him off. He likes it.(
This is his cage
we've added a lookout tower to it. Which is a pain in the butt to wash but he loves it so its worth it.
According to the pet shop Goldfish just release a lot of ammonia compared to other fish, so having several in a tank means we need to keep a close watch on the water quality and if the filter is functioning properly. We also had to throw out the live plants because they where pulled from their roots somehow, maybe the plants where contributing to the algae build up as well /shrug/
The filter seems to be working fine, but the one thing that kind of sucks is that it's tinted so you can't see the true color of the filter cartridge. I thought the filter was working fine but when I pulled it out the whole thing was green with algae I couldn't see without yanking the filter out. :| I am thinking about picking up some different water balancing solutions in the future but so far everything online says a water change should help clear up ammonia burns and the like.
Fievel is warming up being picked up, but the first days he was with us when I'd pick him up it was to pull him away from Murray....so he's still not totally trusting yet. I try to just put my hand in there and let him climb on me himself so he knows it's not a bad thing when my hand goes in the cage.
I used to have a Critter Trail house for my old mice years back, I can't find an exact image of it anymore but here's a picture of Hannibal in the tunnel that goes to the wheel: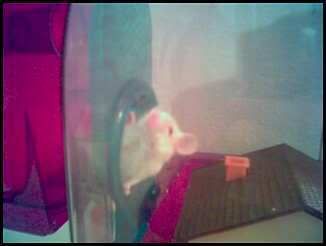 The reason I stopped using Critter Trail is because one day I woke up to find that the entire habitat had toppled over because of the weight from them using the wheel. Which was an extension from the cage itself. Hannibal had fallen and was sitting scared inside some pieces of the habitat and was easy to capture but Misha was roaming the apartment and I was lucky enough to see her in the pantry before I left for school and caught her again.
The thing is at the time I was keeping the habitat in the bathroom on the toilet back(I had my own bathroom in the apartment and my mother initially didn't like me having them in my bedroom until this incident), so if I'd have left the seat open over night they could have drowned. Not only that but this was a short time before I was able to bring my cat back from my fathers house. So if I had my cat at the time this happened both of them surely would have been killed.
:| I never trusted Critter Trail stuff again, and ended up reading that other people had the same issues with pieces of tubes and extensions popping right off to the point they either chose to perminately melt the plastic together or threw it out.
I ended up later having two new mice I had to keep separate and they lived in these cages:
They're pretty much the same as the one I have for Fievel only much shorter but longer. The wire just comes as one big sheet you fold and hook together and it pops on and off of the base with clasps so it's really difficult for anything to become dislodged.