I'm working on modifying the design for a costume. It's a version of Chibi France from Hetalia. I'm using the uniform he wore during the Chibitalia shorts and modifying it so that it has a few more embellishments and pizzazz. Here is the original uniform: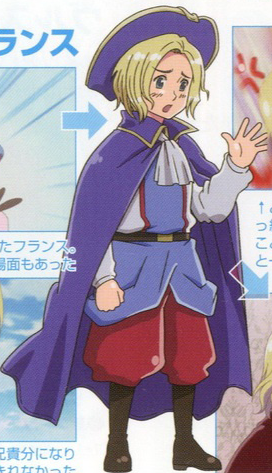 So far in my sketches I've changed his cravat to lace, changed the red stripes on the shirt to thick red lace, added gold lace and beading around the collar and hat (if you can't tell, I enjoy lace), added buttons to hold up the folded away portions of the light blue coat, and added a red & white feather fascinator, gold chains, and blue jewels to the hat.
However, I'm faced with some problems that you other historical cosplayers may be able to advise me on. Firstly, as many Hetalia fans know, Himaruya sometimes forgets to do his homework. This outfit is really quite historically inaccurate, considering France wears it around the 10th century (correct me if I have the date wrong. It's really unclear). It even has a collar, belt, boots and cravat! So, should I stick with era-appropriate accessories or add those fabulous, more modern decorations such as epaulettes? I think the massive amount of lace probably throws historical accuracy out the window anyway.
Secondly, what sort of other embellishments would look good? The shoulders on the actual cape are going to be more realistic and wider than the picture, so I'll probably have room for epaulettes or shoulder bands, which I LOVE but may not look good on it. Does anyone have an idea where I should add other decorations? I'm trying to stick to a gold, red, and white pallet. I've never really done anything like this before, and I would like it to be nicely detailed and ornate but not tacky. Also, if anyone has any idea what sort of hat he was going for there, please let me know. It's so weird and I can't figure out what that gold loop is supposed to be. As of right now I'm doing a hat similar to the one Holy Roman Empire wears (a big sailor hat with tall sides) or a tricorne if I can find a pattern.