Now to the meat of the project, arc reactor Mark IV 2.0.
Here is a screenshot from the film.
Part of this build is that in the past year my job got its own rotary engraver table and I'm the tech/designer for all the engraveable products we use. I am putting that to use in my design.
Today I went and bought the stock I need, but the piece for the top design is on order getting shipped from a warehouse to my home. I went ahead and cut out all my other pieces though and will start working on them tonight.
[img]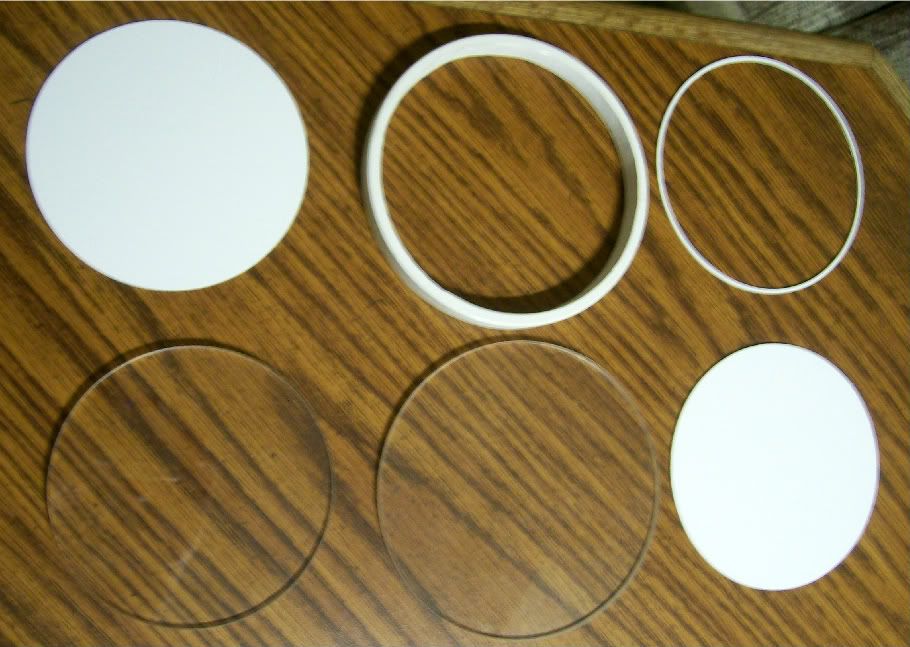 ]/img]
The piece in the middle on the top row is actually a small section cut off the end of a PVC pipe joint that has an outer diameter of 5". I sanded down the inside of the PVC piece to give me more clearance to work with LEDs, I'll explain that more later. All the other pieces were cut out on the engraver to exact sizes to match my design based off the PVC piece. The white piece on the top left is the back plate that fits inside the pvc ring. The small white ring will be glued inside the pvc ring and will be the lip that the back plate sits against. The bottom row is the top acrylic piece, the lower one the LEDs will be mounted into, and a white back plate that will be attached on back side of the acrylic.
Here are the two halfs sitting how they will eventually be assembled.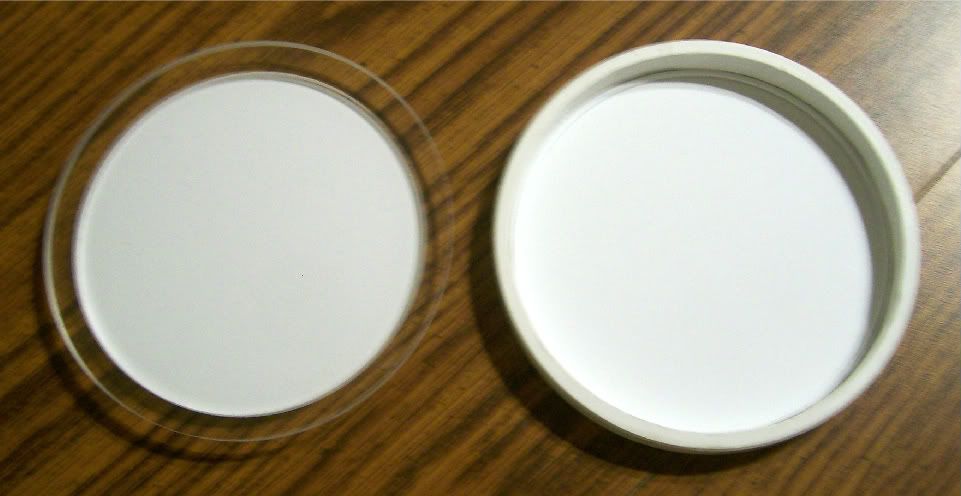 The PVC ring will be painted silver to match the top sheet so none of that white will actually be visible. The two acrylic sheets will be bonded together with an adhesive compound specifically for this purpose. I'll post what it is when I go dig it up. Then on the lower, smaller piece I will drill holes in the sides and glue a whole bunch of LEDs around the circle aimed inwards. The light should transmit through the acrylic and make the whole thing glow without any hot spots from the LEDs. I'll also sand the top surface to make it so the light refracts off the top surface to make it glow correctly instead of just being transparent.
Then when I'm all done with that I'll design the top piece that gives it the right look in AutoCad and cut it out in one piece with the engraver.
I have a quick little video of the engraver cutting out one of the acrylic circles, but I'm having trouble getting it to upload. I may need to convert it to a different format than what my blackberry records in.