Hi there! I'm Memette and its nice to be speaking with you all! I think I made a post in the "Black Cosplayers" topic about this, but my comment hasn't been approved yet. Keep in mind black people don't have to be the only ones interested in this! So what is this topic about? I am glad you asked!
You see, I wanted to do a team project that is able to start a fashion trend that is inspired from black cultures around the world, yet strongly lolita inspired. What I liked about lolita was the fact that it was somewhat of a response and a rather innocent balance to the sexy ganguro culture that emerged in Japan during the 90's.
Quite frankly this sort of balance ought to exist in America especially to serve as an alternative subculture to sexy urban trends inspired by rap and hip hop. Now hold up! I'm not saying there's anything wrong with you if you like that sort of thing. I just think there needs to be a balance. There presently isn't a trend that puts a face (especially on black people in America) who aren't into looking sexy.
Now I'll go into details about the fashion itself.
Hair:
Hair generally has really tight curls in the back and straight lolita bangs in the front. Black people might notice the tight curls in the back is strikingly similar to natural, unrelaxed black hair texture, which gives the hair a (sort of) "afro" affect. Like this: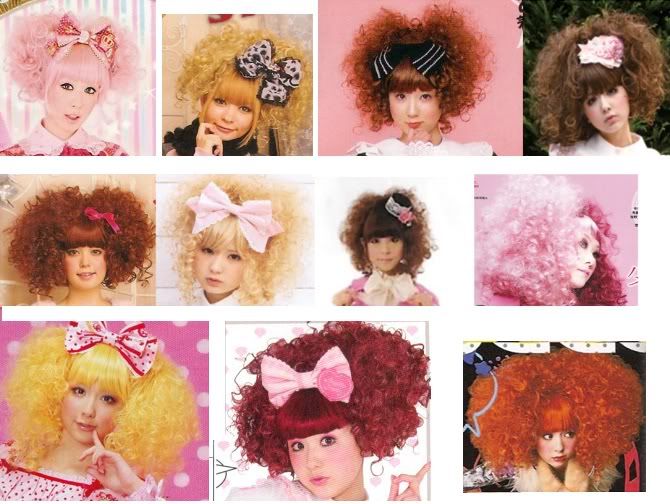 Clothes:
I thought the clothes should look something like this:
It looks somewhat similar to lolita, but has modern tailoring like hime. The skirts are still billowy, wide and bell-shaped, but the outfit isn't nearly as frilly and lacy because of the flashy hair (and to an extent) the accessories).You can see another example
here
:Note the African Batik fabric in this one (you can find it on etsy).
And this one.
(Note: these aren't perfect examples, but they're close. They'd just need some eyelet lace or some other sort of elegant lace at the hem).
Accessories: I thought though instead of bonnets and babydoll accessories, the items should be more vintage looking, with detachable neck collars, lacy crochet gloves, and miniature fascinator hats. For those who don't know what those are, I think they're a bit popular in Britain right now, especially since the royal wedding, although they've been present in black American churches for decades.
Would anyone be interested in starting a team? Please PM me or let me know here!