Hello there!
I am selling Super Sailor Moon cosplay costume! It's brand new, never worn aside from trying it on once. Beautifully made, surged, and nice fabric. Comes with full sailor suit, gloves, tiara, and choker. The only reason I am sellin is cause the costume doesnt fit me.
Measurements: Bust:34 Waist:30 Hip:32 About a size 6 Im guessing.
Asking $60. Shipping will be figured out at time of purchase when I know where the items will be shipped.
I have also decided to offer the sets of Brooches, Odango gems, Feather clips, and earrings. These items have all been hand made by me and have been made with a lot of love and with durability in mind. With this set the only thing left to get is a wig and boots. If you want a set please contact me.
Please email me if you want to would like to purchase or if you want more photos or information.
RaeEvitt@aol.com
I accept only PayPal.
Pet free/Smoke free home.
Sold as is. Its New. :]
No returns. Please make sure these measurements are going to fit you.
Shipping not included in the price of actual item.
Please feel free to ask how ever many questions you want.
Handmade items can be slightly changed by request, please explain.
I may haggle, but I wont be ripped off. Sorry.

Thankies!
Costume: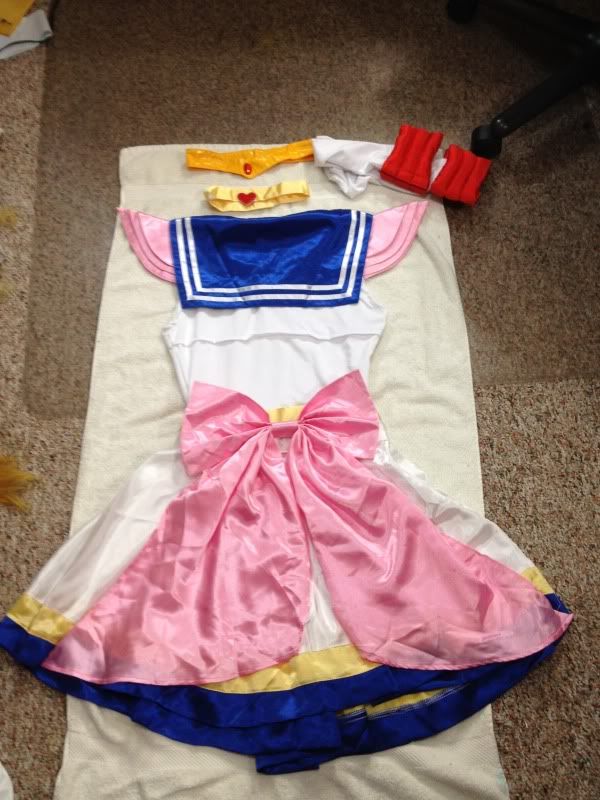 Handmade Brooches, Odango gems, Feather Clips, Moon Earrings.
Brooch:
made from clay and resin. Painted several times with Folk Art paint and gloss. Very glittery and shimmery! Very durable even though its clay. (mine got stomped on and didnt break!) I can change the color to red and I can change the wings if desired. Pin on back.
Moon Earrings, Odango gems and feather clips:
Odango:
Clay and Resin. Folk Art Paint and gloss. I used pins on the back since mine go into a foam base bun I can put hair clips on instead if desired.
Feather Clips:
pearls, felt, and craft foam. Attaches by hair clip. Secure, clips in and wont fall out. Moon Earrings: Clay. Plainted with folk art paint and gloss. Mine are clip-ons. Please let me know what type you would like.
If you want close up photos of my handmade work, please let me know.