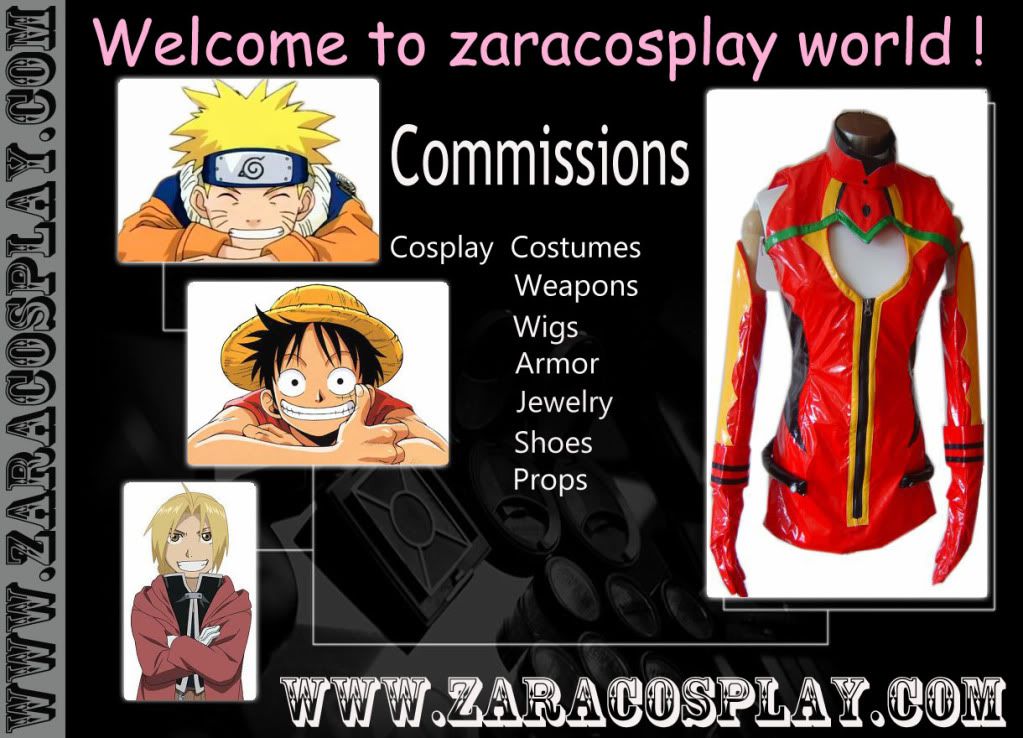 Zaracos Take Commissions On Cosplay Items!
Hello,Thank you for taking time to looking at here.
Our company was built in 2002,and our cosplay prodcut include cosplay costumes,shoes,props.Now we have a factory with approx 30 workmen,and we have a group of technology to study cosplay products, Anyway, We'll be able to create almost anything you want for your cosplay products needs.
Our cosplay items include:
Full Costumes
Partial Costumes
Custom-styled Wigs
Weapons
Armor
Jewelry
Custom Shoes
Crazy Props
And so very much more!
We will make different products in accordance with the requirement for the buyers,the clothings of our price is much lower than other western countries.On my investigation, Under normal circumstances,the same clothes of cosplay are about from $200-$400,our clothes prices are controlled within $80-$350.As you know,it is different price according to the different products.High Quanlity&Reasonable Price is our service standard. We will do our best to meet your demand. I hope everone bought in my shop would be make a friend with me,and hoping you would introduce my products to your other cosplay friends. May cosplay will be better and better.
Your costume will be made carefully by experienced tailors and the inspection for your ordered costume is very strict during our making process. So We are sure to let you enjoy your own size costume.
I only need several datas(in cm) from you
1.Chest
2.Waist
3.Hip
4.Shoulder Width From one shoulder to another
5.Front Length From shoulder to waist
6.Arm Length From shoulder to your wrist
7.Pant Length From waist to Ankle
8.Wrist
9.hiehgt
10.weight
11. your budget
Payment:
We only accept paypal.
Shipping & Handling:
1. It takes less than about 14days to make the costumes after we recieve your measurement.
(If you are in rush,plz tell me your deadline,thanks!)
2. We will send items by International Express Delivery.normally,it will be take approx 5-7days to your country.
If you are looking for a quote on a specific costume, feel free to comment here, PM me, or e-mail me at
zardory@hotmail.com
with a reference image, budget, and the date you will be needing it by and I will respond to you ASAP!
contact me:
msn(email):zardory@hotmail.com
AIM:zardory@hotmail.com
skype
inkylee724
ebay id:zaracos
Buyer Show Pics Link:
http://s631.photobucket.com/albums/uu35/zardory01/sold
items show/#!cpZZ1QQtppZZ36
Site:
http://i631.photobucket.com/albums/u...g?t=1293418318
,you will find my site on this gallery link^^