Medium brown, short, Fantasy sheep - 15 USD
SOLD
Long red, Fantasy Sheep (
80CM
) - 25 USD
This wig is absolutely GORGEOUS. It's a deep red, straight, without layers. It's SUPER thick, one of the thickest wigs i've ever owned. Fantasy sheep is well known for their amazingly thick yet tangle-free wigs, and this one for sure fits the bill. A bit of finger combing and it's smooth and perfect. Never been cut or worn (save for getting that photo), no tag. I DONT HAVE ANY PICTURES OF THIS WIG ON A WIG HEAD. I dont want to take it out of the bag and ruin the braid I have it in, so i'll post a stock image and a proof image. If you really want me to stick it on a wig head im willing, but hopefully you get the idea!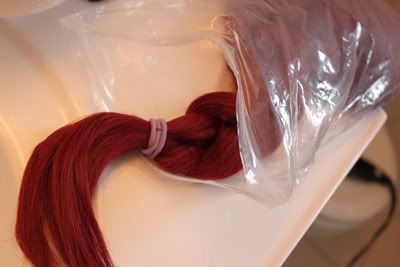 Super long pale blond, Fantasy Sheep -
100 CM
- 35 USD
This wig is absolutely amazing. I bought it for SeeU and it for sure has the thickness. It's straight with a slight wave since i've kept it in a braid, but it's 100% heat resistant so you can flat iron it. I only wore it once for the photo you see, to try it on, and decided the color doesnt suit my skin tone. I've included a stock image, plus and image of me wearing it - though it REALLY doesnt convay the color properly because its a webcam shot. The stock image is a 100% accurate color, it's not nearly as white as the picture I have wearing it.