Hi, not really new here as I usually can find all my answers by lurking, but I've got a few about my newest cosplay.
I'm doing my favorite cartoon/comic character of all time, so I want to do him justice (pun not intended). YJ BB!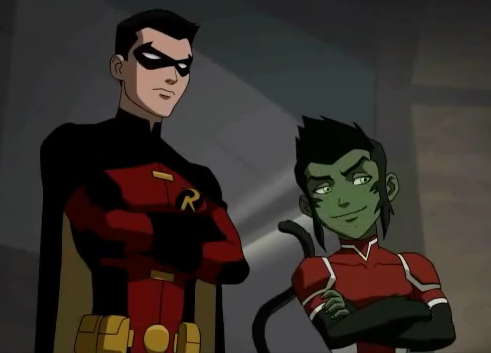 I've already started getting a bit more in shape since BB is really lanky but short. It was a nice change to start working out and changing my eating habits and I think BB was the perfect motivator. Right now I'm 4'10 and 103 pounds, I just want to define a bit more before I make a skintight suit!
So that's my first question. I've seen good tuts on how to do symbols with incredibly stretchy fabrics, but nothing like BB's suit. I'm not sure how I'd change a pattern to make it work., and the thin white lines look to be a challenge.
I've already got the fur thing down, but I'm wondering what to do about areas of fur that join with the suit. I don't want to make it look puffy where the spandex meets the fur, and I don't want to extend the fur into pants because it would get lumpy under the suit. Any suggestions?
Facial hair! His is pretty dramatic and I'm a girl so I can grow any, unfortunately. :P What's the best thing to use for that? I'm up for dying a wig and sideburns to have them match. On that note, I'm having trouble finding a good wig. I have a lot of hair, like below shoulder length so I'd like to be able to fit it up under the wig while braided, which shouldn't be too hard. But I'd like the wig to be thick. I have friends who can help with styling.
Tooth gap! His is pretty noticeable. How can I do this, and is it even possible? I already have visibly sharp teeth so I don't need anything for that.
And contacts, his eyes are actually green unlike in the turnaround art. Just looking for good quality that I can wear around for a bit to get used to them. I have grey eyes so the green should show pretty well.
Thanks!