Hello everyone!
I found out a way to locate cosplayers on google map. This way it is easy to view and find out distance to other cosplayers for gatherings or meetings C:
Please click
here
, and follow easy instructions below to add yourself to the map.
1. Search your address. For safety reasons, please
only enter your zip code
.
2. Click the "A", save to map.
3. Click "View map" in the balloon that pop up.

4., click the red buttom "EDIT", and click on the new address you just added on the left of the map (you should find it at the bottom of the left side). This address is now editable.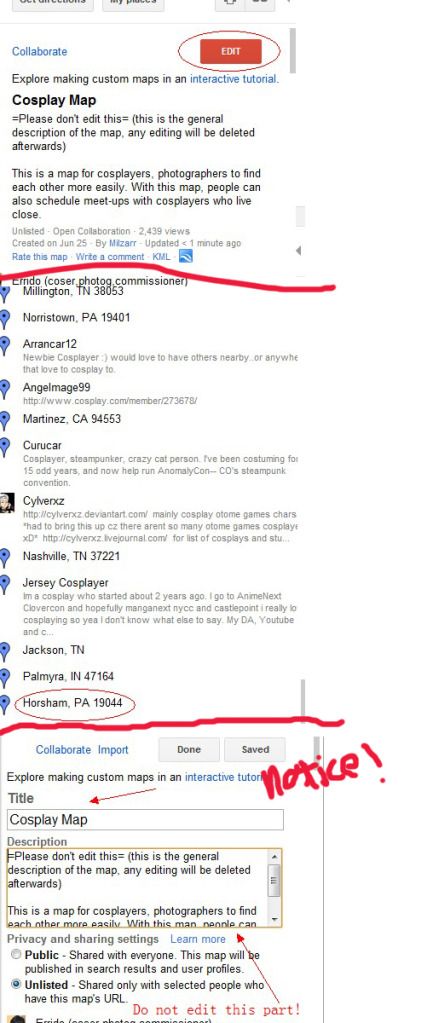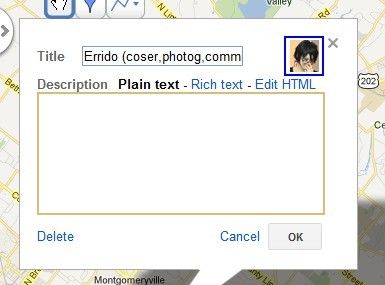 *Please please do not edit the general description of map that I pointed out*
*Please do not edit others' description as well*
Title: your cosplayer.com ID (so that others can search for you) as well as your interest (cosplayer, photographer, stylist, make-up artist, etc)
Description: a short introduction about yourself and the cons that you go to. Leave Email or FB account if you want to, but keep in mind that this map is open to anyone who can click on the URL.
You can add a personalized icon if interested.
5. Click "OK" once you are done entering the information. You are good to go!
I thought this might make it easier for some to gather up. I saw several threads seeking cosplayers in the state with 1000+ pages, and there is no way for me to look through every page to find if anyone lives around 20 min. away. Of course I can use the "search" option, but that's too specific ;P This way it is easier for some cosplayers to plan to attend a convention together, and may also help for photo-shoot scheduling
Comment if you have any problem ;D
Edit:
please comment
after you have added yourself. This will bump the thread to the front of the page and be seen by more people C; Can't wait to find more cosplayers in my area!
Edit: As I found that people still have problem with this tutorial, I got some pictures that might help.