I am taking commissions for Midna's headpiece. The helmets are very light weight materials great for walking around conventions for long hours at a time. I strive in making headpieces that are light weight that will be comfortable for the cosplayer to walk around in, and making the commissions as affordable as possible. It is always my goal to make headpieces as accurate as possible, to portray the character as if they jumped straight out of the game
Price $75(shipping included)
I require $20 dollars up front for materials cost and the remaining $55 upon completion of the accessory.
How to measure your head. (Please make sure you measure correctly. I will make the headpiece based on measurements given to me!!) Measurements in inches or CM: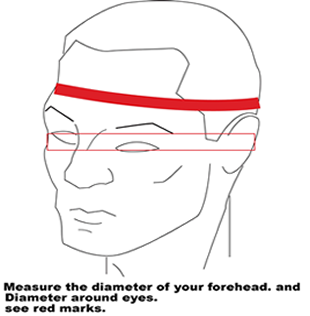 I also take bodysuit commissions for $120 (shipping included)
I require $40 up front for materials cost and the remaining $72 upon completion
Please given me your height (in CM!! you can just convert your height from inches to cm), and weight (lbs). please be honest. I know some might be self conscious but I need all measurements and weight to be accurate. i will not judge based on someones weight.
How to measure (Please measure correctly. I will make based on measurements given. measure in CM not inches!!)
All items are made upon request. I require a minimum of 6 weeks to order/buy materials and make the items. Body suit commissions could require more time. so if you are needing this item for a con a moth away I CANNOT guarantee that it will be ready, but I can try my best.
I am not responsible for any damages towards the item once it is shipped out. it is in the hands of the postal service after it has been shipped.
I take two to three commissions at a time. If commissions are full, you will be put on a waiting list.
Payments excepted by Paypal only as it is the safest form of payment option
any other questions can be discussed by email
Jazminedudley@yahoo.com