I am looking to mold and cast Little Sister Adam Syringes, and would like to see if I can't find at least 10 people who are interested before I plan on doing a run of them. Now, 10 isn't completely necessary, It's just the ideal number to shoot for. I have a family friend who has agreed to let me borrow a period correct 1900's era brass gas pump handle by which the design for the little sister syringe was based on, in order for me to mold and cast so that I can turn it into a prop without actually harming the original handle. Then I'll take the first cast I make, make the necessary modifications to it in order to make it accurate to the modifications made in Rapture in order to make it usable for the little sisters to gather Adam. Once the modifications have been made, I will recast it and then do a run of (insert number here) syringes, clean them up, paint them, and install LED's inside glass jars filled with "ADAM" and ship them out to their respective owners.
The end all product will end up looking like this: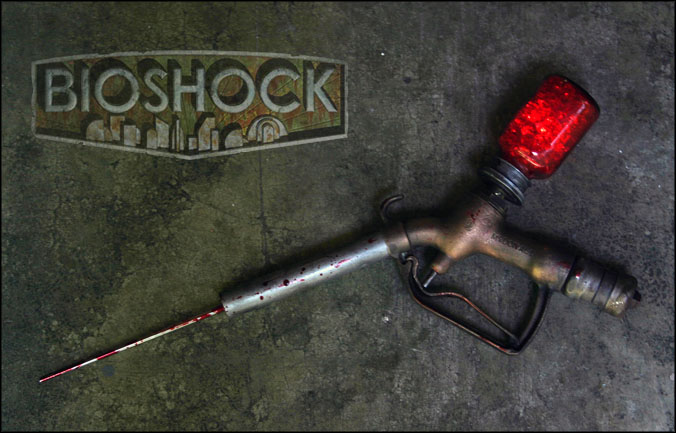 If you have any interest or questions regarding this feel free to PM or email me at
ltmcmuffin@gmail.com
. Like I said, I am looking for 10 or more people who are interested because it will allow me to go ahead and make the molds and casts knowing that I have the sales lined up in order to pay for the funding that I am putting into the project.