Okay so I'm extremely new to costuming and am unsure of the materials I should use. I've drawn up a design and worked out that there's going to be around six pieces, excluding the torn clothes: The stomach, the mask/neck, each arm/hand and each leg/foot - depending on if I choose to do them.
It's going to be a combination of this:
and the middle one here: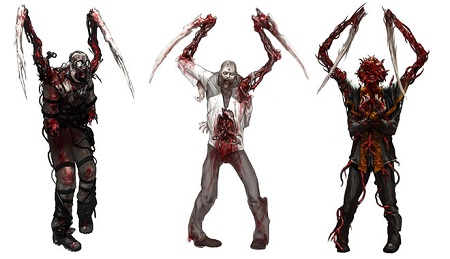 So not completely transformed but mostly.
I'm going to have the blades coming from my palms. With my VAST knowledge of materials the only way I can think of making these would be to cut the shape of the blades out of a sturdy foam and then proceed to latex the hell out of them to get the texture and shape, but also THEN attach them to some sort of latex glove I've made that will go up my arm.
The rest of the pieces like the mask with neck included would be latex?
The stomach I would make so it attaches onto my own and somehow does up behind me and sits under my shirt.
Basically what I need to know is, what products are out there that are good for modelling these shapes, whilst still being wearable for a costume.