Abyss (Will of the Abyss) from Pandora Hearts
Measurements:
38" bust, 32" waist, free hips
I'm 5'2", but the skirt and end of the back bow dragged a bit. Someone taller wouldn't have this problem. It's a minor thing though, really.
This is a gorgeous cosplay that unfortunately doesn't look as great on me as I'd like it to T_T This was custom commissioned for $200+ and is beautifully made. It was made to fit my size, give or take a few inches. Worn only once for about 6 hours at Anime Vegas.
Comes With:
Corset-like Tube Top
Skirt
Skirt Trail
Arm Sleeves
Ribbons
Blue Flower Choker (not picture b/c I forgot to wear it to AV)
Large back bow (clips on in the back)
Asking $100 OBO. You won't find another Abyss cosplay at this quality for cheaper. This isn't some made-from-China-out-of-cheap-material cosplay. I'm happy to do partial trades, but I won't haggle on the price for trades. Because there are so many pieces and it's heavy, shipping will be around $16 (large priority flat rate box).
White Lolita Double Breasted Dress/Coat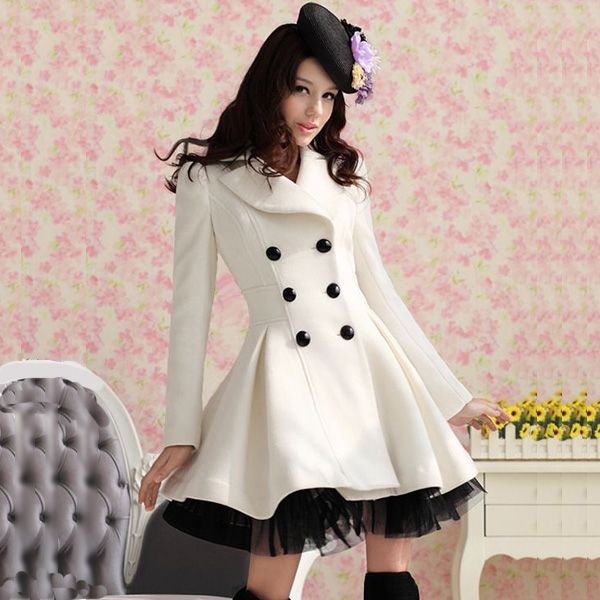 Measurements
Shoulder: 24.6"
Bust: 37.8"
Waist: 34.6"
Sleeve Length: 26"
Length: 33.9"
I do not recommend being any larger than the measurements shown. There's no give. I actually suggest about an inch or two lower for a good fit.
I bought this to wear at a special event, but it arrived after the event so I never did end up wearing it. When it did arrive, my bust didn't fit (I have a bust of about 38"), which is unfortunate because it's truly a lovely dress/coat.
I'm asking $60 OBO for this one. It's pretty darn heavy, so shipping is $15.
-----------------------------------------------------------
Again, I'd be more than happy to do trades or partial trades. The only cosplays I'm really interested in at the moment are the following, however feel free to offer what you have:
Medusa (Soul Eater)
Toph (Avatar)
Stocking (Panty and Stocking)
Ririchiyo (Inu x Boku SS)
Erza (Fairy Tail)