WTB: Carly Nagisa from YGO 5D's Cosplay
---
I'm looking for these pieces from Carly's everyday outfit: Glasses, Shirt, Vest, Fannypack, and her Green Bag. I would also be interested in her Dark Signer outfit, provided that it is a least near my size. (Around a medium or a 4 in dress sizes.) If you have anything listed above that you're willing to sell, please respond to the thread or shoot me a PM with a picture of whatever you have and an asking price. Outfit is pictured below for reference.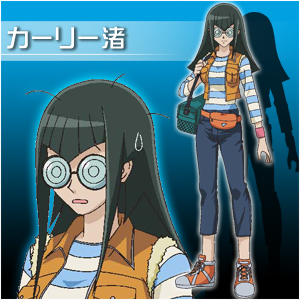 __________________
Next Con: Katsucon 2015!
Thursday: Kisara (YGO)
Friday: Miho Nosaka (YGO Season 0)
Saturday: Dark Signer Carly (YGO 5D's)
Sunday: Carly Nagisa (YGO 5D's)
---
Last edited by Darkspine29 : 05-07-2013 at

04:07 PM

.