Sailor Saturn
** Reduced Price **
Originally purchased from a cosplayer here.
Reason for selling, the boots were too small for me and I never had time to invest in new ones.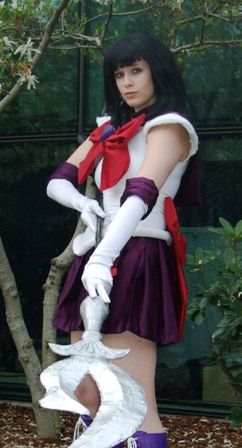 What's included:
Spear Weapon (Two pieces come apart for easy travel & storage)
Wig
Tiara
Earrings
Gloves
Body suit with Bows
Boots: size 7 (runs small)
The costume will fit a size small to large medium.
The material is extremely stretchy except where the roll sips on the hips.
Chest: 28.5 (max 34)
Waist: 26.5 (max 32)
Hip roll area: 35 (max 40)
Asking $120 + shipping.
Negotiable
.
Note on weapon
:
The weapon is very well made but heavy. Estimate shipping is $40.
Taking the weapon is
optional
, but does not reduce initial price of costume.
-----------------------------------------------------------------------------
Trades:
I am willing to trade for full Asuna (Sword Art Online), or Saber (Fate Night/Zero)
Serious buyers only.
PM me, or for faster replies, contact me via
vivid.illustrator@gmail.com
.
Payments:
Paypal only, final sales. Shipping to be determined based on location.