it's actually not a symbol but it's the actual character in Japanese/Chinese that means "explode".
In Chinese/Japanese calligraphy one of the most important aspects is the "proportion". In this case, the left part of the character you did pretty well on, but on the right part the proportion is off. The top "box" part in proportion to the bottom portion should be in a 1:2 ratio, that is, the box should take up only 1/3rd of the space on the right side.
The short straight line at the very bottom should be twice as long as what you have there, and yes what LadyRayne said is also true, you missed out on two of the downward angular strokes that should be there. (Sorry, chinese person speaking here, we were drilled this since BIRTH pretty much so now we can spot all the mistakes that others tend to make =P)
Finally because of the angle of that screenshot of Yashamaru the exploding notes seems horizontally stretched, but they should actually be squarish or more longer vertically than horizontally.
Hmm....here's a picture of the actual character you were copying =)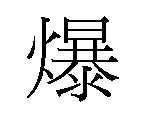 putting them on sticker paper was a cute idea, though....you should go around and stick them on random trees and places XD