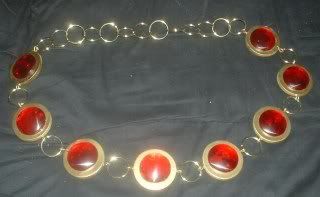 This may be late, but I found this picture of Raven's belt that someone did. I'm looking for ways to make one too, so it caught my eye. She made the jewel pieces out of wooden discs (found at craft stores with woodworking materials or online) that she painted gold and glued on jewels she had made herself out of cast resin and connected the pieces to a gold ring belt with metal loops screwed into the side of the wood.
Personally, I found cast resin to be expensive, unless you are going to be making lots of your own jewels in the future, because you have to buy the resin, resin dye, components to make a mold, and mold release spray; which can total upwards of $50. I'm planning on just buying flat back craft jewels either from eBay or allstarco.com, because the craft stores in my area don't carry any that are big enough (I'm going to use 50mm.)
For the jewels on Raven's gloves, I would just take very short screws and some tiny washers (to keep the screws from being torn out of the glove) and screw the pieces on from the underside. As for the jewel over her chakra, I'm personally just going to paint it on with acrylic paint so I don't have to worry about it falling off. But if you aren't very arty or want to be a little more true to the show, you can get a red marquise flat back jewel and adhere it with spirit gum. Halloween and theater stores should carry it, or you can buy it on amazon.com. Hope this helped!